L'oven Fresh Cloud Bread from ALDI—I've seen this mysterious loaf in the Aldi Finds Ad and I'm intrigued. I mean, a bread that's Gluten Free, Sugar free, and has zero carbs? Sign me up!
From what I gather, it's made with primarily with eggs and cream cheese.. No preservatives? That's a big win in my book. I'm all for minimizing the amount of preservatives in my food.
The fact that it comes frozen is a huge plus for me. I can just imagine toasting a slice on a busy morning and heading out the door, no fuss. It's like having a bakery in my freezer, minus the guilt.
If you have been dabbling in the Keto lifestyle, let's be honest, finding a bread substitute is a struggle. If this cloud bread lives up to the hype, it could be the missing piece in your Keto puzzle. So, next time your at ALDI check it out! Fingers crossed it's as heavenly as it sounds!
Of course there is also more typical Keto Bread at Aldi that does have gluten and some carbs so this might be a good option for some. If you are looking for some protein for your mornings check out Aldi Protein Powders.
ALDI Cloud Bread
Price: $5.29 (2023, prices may vary)
Available: 8/30/2023 (limited time Aldi Find)
Size: 8 count package (6.4 oz)
Gluten Free
Sugar Free
Zero Carbs
KETO Friendly
Made with eggs and cream cheese
Frozen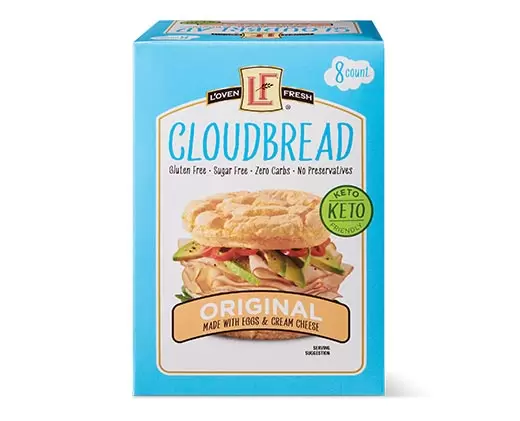 Aldi Cloud Bread Reviews
5 out of 5 stars (based on 1 review)
It's Awesome!
It taste great like bread, not eggs, or cardboard. I only wish that the buns were a bit bigger. Great size for a breakfast sausage sandwich, but a bit small for a burger. You get 4 sandwiches (8 halves) per/box. Not cheap, but on par with other bread substitutes. I found them at the local ALDI grocery store (once). They're hard to keep on the shelf, but they come frozen, so the next time I see them, nobody else will.