Extra Large Insulated Water Bottle from Adventuridge and Crofton
Aldi has a deal on an extra large double wall vacuum insulated growler in this week's Aldi Finds. It will be available starting the week of 6/1/2022 for just $14.99. There will also be a similar version from Crofton selling the week of October 5th, 2022 for the same $14.99 price.
The Adventuridge Insulated Growler will hold half a gallon of your favorite beverage and keep it cold for 24 hours or hot for 12 hours. It has a large opening to fill it up quickly and an easy pour lid. This growler is built with a double wall vacuum which will give great insulation and durability.
The bottle is called a growler which I associate with carbonated beverages but Aldi does not list keeping carbonation as one of the features. So I wouldn't count on it keeping your drink carbonated but it should keep it cold/hot. This would be good for picnics, camping, or any other time you need to bring a half gallon drink along.
I have a Adventure ridge insulated 20oz mug that I have been using for a few years and it has held up well. I would say the quality is comparable to my Yeti mug. I don't have direct experience with this growler but the Adventuridge Products I have used have been good.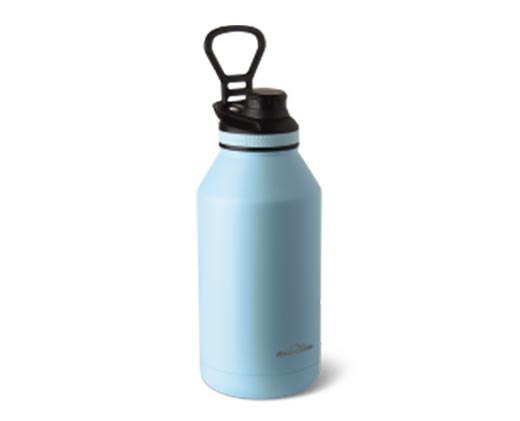 Adventuridge Insulated Growler
Price: $14.99 (2022, prices may vary)
Available colors: Black, Teal, Gray or Pink and Teal Ombre
Capacity: 64oz (0.5 gal, 1.89L)
Keeps beverages cold for 24 hours and hot for 12 hours
Easy-pour lid with large opening for quick filling
Double wall vacuum insulated
No sweat design
Carry loop for easy handling
Aldi Product Code: 700717
Crofton 64-oz Wide Mouth Chugger
Price: $14.99 (in 2022, prices may vary)
Available: 10/5/2022
Colors: Teal/Pink Ombre, Black or Blue/Green Ombre
Aldi Product Code: 706875
Is It a Good Deal?
Aldi Finds don't seem like they have been the great deals that they used to be recently but this one does seem to be pretty good. Most options I found online range from $25-$30 so this is about half price. I was able to find one good looking one for $20 and the lid can be used as a cup. I also looked for one that would maintain carbonation in case you need get a fill up at the local brewpub. These seem to be more expensive but I did find one on sale for around $25. So this seems to be a good deal overall if you are looking for large insulated bottle for coffee, tea, water or other non-carbonated beverage.
Adventure Ridge 64 oz Growler Reviews
4 out of 5 stars (based on 1 review)
Great water thermos
I purchased one for myself ..then days later went back to Aldi to purchase one for my adult son…he works in a hot environment and really enjoyed this thermos…he said he through out the ones he had been using because the Adventuridge was so much better…Sad to say he only had it a few weeks and somehow the lid broke. We searched the internet..could not find a replacement lid for Tal products…I'm hoping they will replace it I hate to have to buy another so soon….if anyone knows or has a source for the lids please advise.