Aldi's Rolling Storage Cart
I've been eyeing this Huntington Home 10-Drawer Rolling Cart that popped up in the Aldi Finds the week of 9/13/2023. For just $24.99, it seems like a decent deal.
I haven't tried it out yet, but it seems like it could be a pretty cool solution for storage in the kitchen, office, school, workshop, or even the garage.
Huntington Home 10-Drawer Rolling Cart
Price: $24.99 (2023, prices may vary)
Available: 9/13/2023 (Limited Time ALDI Find)
Casters make it easy to move it room to room
Two locking wheels to keep it where you want it
Ideal storage solution for office, kitchen or garage
Cart dimensions: 12.6″ L x 15.36″ W x 38.1″ H 
Drawer Dimensions: 11.26 " L x 15.2″ W x 2.8″ H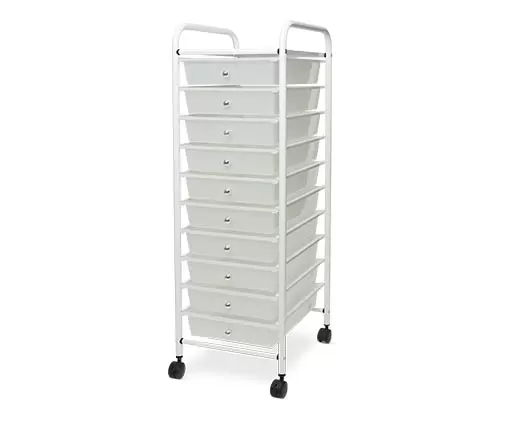 Is the 10-Drawer Cart a Good Deal?
At Just $25 this looks to be a pretty great deal from Aldi. I've seen most of the top selling carts going for $50+. Be sure to check the dimensions before buying so make sure it fits in your space but this looks like a good buy.
Sale
Bestseller No. 1
Sale
Bestseller No. 2
Bestseller No. 3
Seville Classics Rolling Utility Organizer Storage Cart, for Home Office, School, Classroom,…
MULTIPURPOSE ORGANIZER – 10 drawers provide plenty of space for keeping your home office supplies tidy and close, organizing makeup and cosmetics, storing arts and crafts supplies, and arranging tools…
ORGANIZER DIMENSIONS – 12.8″ W x 15.4″ D x 38.2″ H; inner drawer dimensions: 9.5″ W x 13.63″ D x 2.5″ H
TRANSLUCENT FINISH – Private, all-black polypropylene drawers protect drawer contents from peeping eyes
Huntington Home 12-Drawer Rolling Cart
The size seems pretty decent – 24.96″ long, 15.24″ wide, and 31.53″ high. It's not too big, but not too small either. It looks like it could fit in a corner without taking up too much space, but still hold a good amount of stuff.
What really caught my eye though, were the two locking castors. You can just roll it around wherever you need it, and then lock it in place. I can already imagine rolling it around my kitchen or office.
Details
Current Price: $39.99 (2023, prices may vary)
Available: 7/19/2023
12 drawers (4 large, 8 small)
2 locking castors for easy mobility
Dimensions: 24.96″ L x 15.24″ W x 31.53″ H
Ideal Use: Office, crafts, kitchen, school, workshop, and garage storage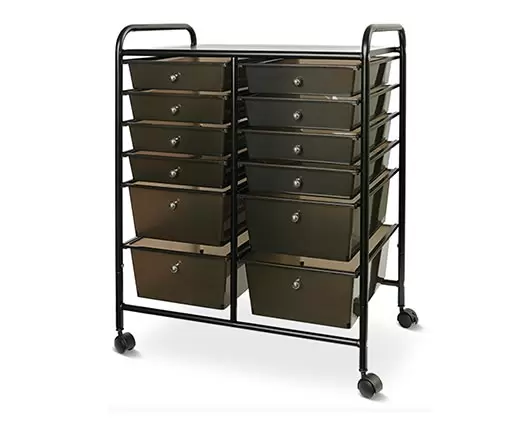 Is It A Good Deal?
Sale
Bestseller No. 1
Sale
Bestseller No. 3
Huntington Home Storage Cart Reviews
Be sure to let us know the year you purchased since these Aldi Finds can change year to year!
3 out of 5 stars (based on 1 review)
I'm considering buying the Huntington Home 10-Drawer Rolling Cart
I need a couple of those drawers to be taller. If you leave a drawer out, is the base mostly open space so you can put taller things in the drawer below it?
Last update on 2023-09-29 / Affiliate links / Images from Amazon Product Advertising API