Aldi Buffet Server With Warming Tray
Getting ready for big holiday meals or entertaining large groups? Aldi has you covered with this Ambiano Buffet Server With Warming Tray.
It will be selling for $39.99 and be available starting November 2nd, 2022 as an Aldi Find. It looks like it comes with four stainless steel trays although Aldi does not list the size or capacity of this unit.
This Ambiano buffet warmer has adjustable temperature to keep your foods at the right temperature while serving. It is also easy to clean with dishwasher safe steel serving trays.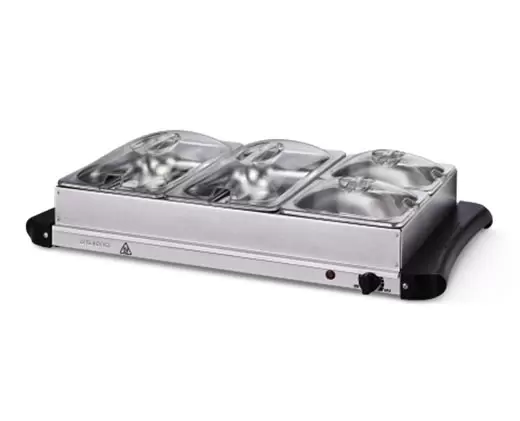 Ambiano Buffet Server With Warming Tray
Price: $39.99 (2022, prices may vary)
Available: 11/2/2022
Adjustable temperature to keep your food warm
Easy to clean, dishwasher safe stainless steel trays
Cool-touch handles and anti-slip feet
300 W
Aldi Product Code: 810591
Is It A Good Deal?
Since Aldi doesn't list the capacity online it is tough to give a direct price comparison. Judging the size just from the pictures it looks like the Ambiano is a decent deal at Aldi.
There are a few similar buffet warming trays that cost just a bit more than Aldi's version but if you want to save some money check out this Ovente Buffet Warmer.
The Ovente is not a warmer with trays, instead you put your pots/pans on the flat warming surface. It may not be as effective over a long period of time but it is probably a little more versatile.
If you are looking for a buffet warmer with trays you can take a look at the Elite Gourmet Buffet Warmer or the NutriChef Buffet Warmer. Both look like decent deals right now.
Ambiano Buffet Server Reviews
5.0 out of 5 stars (based on 1 review)
Outstanding little buffet warmer
I picked this up at my local Aldi approximately 2 -3 wks ago and I'm wishing I'd bought two. The trays looked small initially, but was I surprised!! I was able to fill one of the bigger trays with rice enough to feed eight hungry people, then refill only once. The other held pernil and the smaller ones, corn casserole. It kept all the food at a nice hot temp without drying out or burning it. It has adjustable temp which worked well throughout the evening. The convenience of being able to enjoy a second plate w/out having to use a microwave is so convenient. This item to me is worth every single cent. Planning to pick up a couple more.