Aldi Juice Extractor & Cold Press Juicer
If you are looking to add a juicer to your kitchen collection you will want to head to Aldi this week to check out two Ambiano Juicers. Aldi will be selling the Ambiano Juice Extractor and the Ambiano Cold Press Juicer for $39.99 each.
These will be limited time Aldi Finds so you will want to act quick if you want to grab one. They will be available the week of December 28th, 2022 but won't stick around long.
Whether you just enough a glass of fresh juice or you are looking to start your New Years Resolution with a cold mug of carrot juice Aldi has you covered.
The details listed on Aldi's website are pretty limited so we don't know what kind of power these juicers have or if there are any specific limitations to either machine.
Just going off of similar juicers online I would expect to get more juice faster from the Juice Extractor than the Cold Press Juicer. The advantage of a Cold Press Juicer is generally it uses slower processing which keeps the juice from heating up. That is ideal if you want to keep your fruit/veggie juice as raw as possible.
Ambiano Cold Press Juicer 
Price: $39.99 (2022, prices may vary)
Available: 12/28/2022
Adjustable options between "on" and "reverse" for complete juicing
Nonslip feet for stability
Includes: Two cups and cleaning brush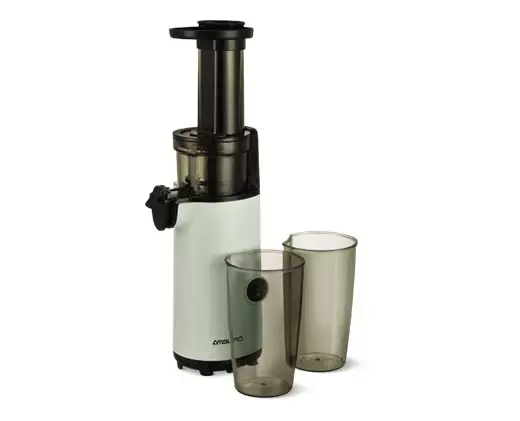 Ambiano Juice Extractor
Price: $39.99 (2022, prices may vary)
Available: 12/28/2022
Extra-large chute to process whole fruits and vegetables
Two speed options
1 Liter juice cup included
Aldi Product Code: 707989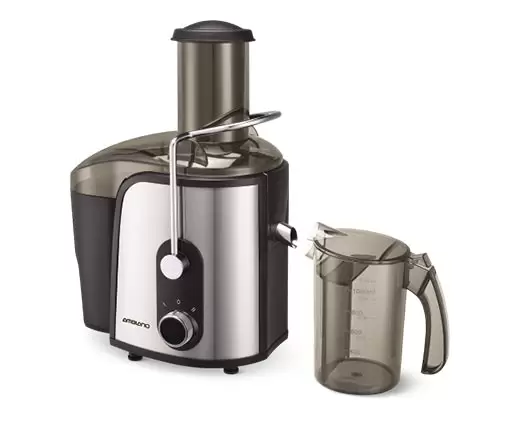 Is It A Good Deal?
Here are a few of the top selling juicers on Amazon. Right now it looks like Aldi's juicers are a bit cheaper than some of the most popular options online but there may be a little unknown going with the Ambiano version since we don't have many reviews of these models yet.
Bestseller No. 1
Hamilton Beach Juicer Machine, Big Mouth Large 3" Feed Chute for Whole Fruits and Vegetables, Easy…
Healthy, homemade juice in seconds- juice a variety of fruits and vegetables. Juicer is easy to assemble with extra-large pulp bin. Juice cup not included
Extra-large 3 inch feed chute fits whole fruits and vegetables – Fit a whole apple, a peeled orange or a handful of kale. Less precutting, and more continuous juicing for fresh fruit juice, vegetable…
Easy to clean – Removable parts are dishwasher safe and BPA free
Bestseller No. 2
Bestseller No. 3
Breville RM-JE98XL Juice Fountain Plus 850-Watt Juice Extractor (Renewed)
This Certified Remanufactured product is tested and certified by Breville to look and work like-new. The product is backed by a 6 month warranty
Simple to operate, the 850-watt unit features an extra-wide 3-inch feeder chute
Choose high speed (12,000 RPMs) for denser fruits and harder vegetables and low speed (6,500 RPMs) for leafy vegetables and soft fruit
Ambiano Juicer Reviews
2.3 out of 5 stars (based on 3 reviews)
Not enough power
This cold press juicer doesn't have enough power to do the job. The fiber in the fruits and vegetables you want to extract juice from gets bound up in the auger and clogs up the machine, causing it to overheat and burn out. This is with the peels removed, and everything cut up into bite size pieces. Not worth the money.
Ambiano juicer juices
This is my 1st juicer and it works really good Especially for the price maybe one day I can get a nama but for now This does the job
Piece of trash
I just lost $39.99 purchasing that piece of trash. I followed all the instructions and I can't get it to work. I took it back to Aldi because it's electronic they won't give me a refund.
I am beyond pissed right now. Hear $39.99 out of the drain. Never again. Lesson learned
Last update on 2023-05-28 / Affiliate links / Images from Amazon Product Advertising API