The Crofton Mandolin will be available at Aldi the week of 12/28/2022 for $9.99 as an Aldi Find. It is available in three colors and includes a hand guard.
Aldi's Crofton Adjustable Mandoline allows for adjustable slicing thickness and has a handguard and lock setting for added safety. The Aldi Mandoline doesn't take up much space and slides neatly into my kitchen drawer. If you missed out on this or just prefer knives check out the Aldi knife options in the Aldi Finds Aisle.
Aldi Mandoline (Crofton) Details
Price: $9.99 (2022)
White with Blue, Green or Black handle
Three settings to easily adjust to thin, medium, and thick slices
Extra wide design for larger produce
Features angled stainless steel blade for more efficient slicing
Grooves allow for use over most bowls
Lock setting for safety
Includes a hand guard
Dishwasher safe (I have been hand washing mine)
Made in China
1 year Limited Warranty
Crofton Brand
After Sales support: progressiveintl.com – 1-800-426-7101
View at Aldi.us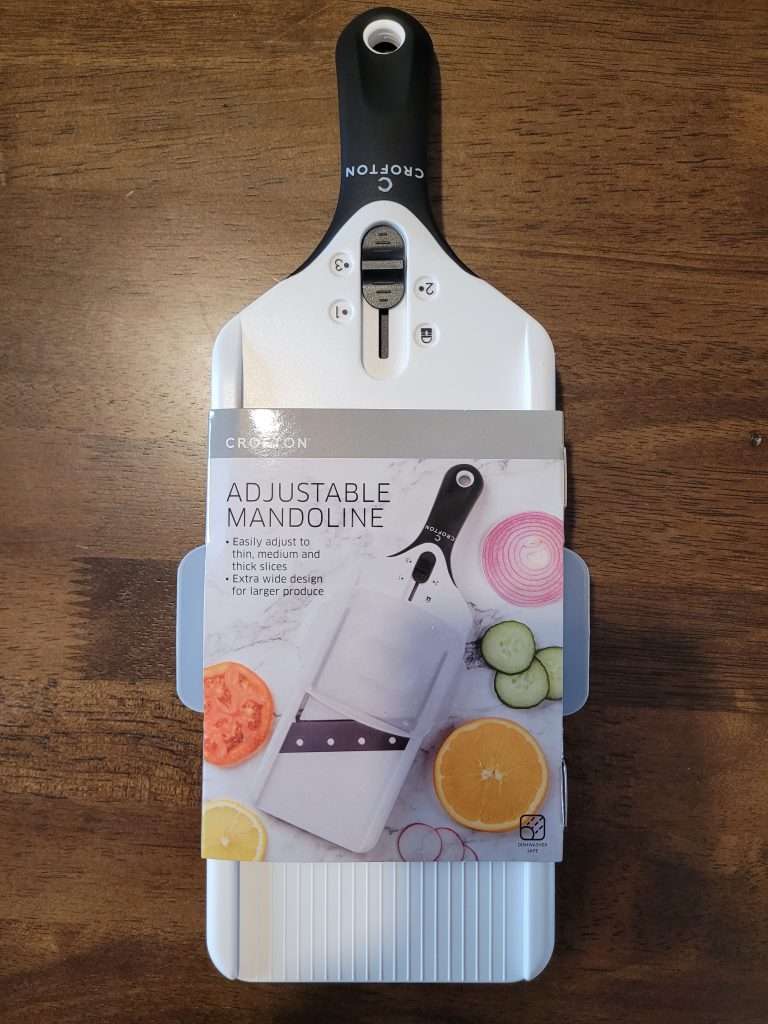 I had put off buying a mandoline for a long time because I have heard some many horror stories of people cutting themselves while using one and I am decent with a chef knife. But when I saw this in the Aldi Finds Aisle for just ten bucks I figured I would try it out since it comes with a hand guard that holds the vegetable so your fingers don't have to get close to the blade. Picking it up it seems solid and well made, it is plastic but has a nice feel to it, similar to OXO brand products.
Aldi Adjustable Mandoline Initial Impressions
I picked it up this afternoon and tried it out for dinner by slicing some shallots on the thinnest setting. It worked like a charm using the hand guard to hold the shallot. I had a long skinny shallot so I did cut it in half to shorten it so the hand guard could hold on easier. It produced nice thin slices of shallot that were much more consistent than if I had done them with a knife.
Based off my initial impression I think this is a good buy. Similar non-brand name slicers are selling for about $15 on Amazon and an OXO brand mandoline that looks like it has similar features sells for about $18 at the time of writing. I'll put a link below for the OXO that should show the current price for you.
If I start using this a lot I will probably get a cut resistant glove if I find the handguard isn't convenient to use all the time.
Update December 2022: I used this a lot over the summer, mostly cutting cucumbers and onions. It has held up well and is still sharp. The three settings work well for most of my slicing needs. The version that is available in December has a new hand guard that looks like it would be more convenient than the one I bought. I haven't ran it through the dishwasher much which may have helped keep it sharp.
Is It A Good Deal?
Bestseller No. 1
Sale
Bestseller No. 2
Sale
Bestseller No. 3
Fullstar Mandoline Slicer for Kitchen, Cheese Grater Vegetable Spiralizer and Veggie Slicer for…
Greatest functionality on the market – 6 interchangeable blades meet all your slicing and grating needs whilst our spiralizers are perfect for zoodles, healthy vegetable pastas and gorgeous garnishes.
Compact and practical – Our vegetable mandoline slicer can be fully disassembled with ease and the included blade box means that worrying about storage and organization is a thing of the past. Plus…
Keeping you and your family safe – we know our stainless steel blades are high quality and razor sharp. Our set therefore comes with a fingerguard and protective glove to keep you safe whilst you are…
Aldi Mandoline Reviews
3.5 out of 5 stars (based on 2 reviews)
Worked the first few times then cracked
I really enjoyed it at first and then the white piece that you slice over cracked in a few of the grooves. Will call the toll free number to see what they will do.
Gonna speed things up in the kitchen
Just got it and tried it out once. Seems well made and sharp. Sliced evenly and thin.
Last update on 2023-11-30 / Affiliate links / Images from Amazon Product Advertising API