Aldi's Magna Tile Alternative
The Bee Happy Mag Tiles will be available at Aldi as a limited time Aldi Find beginning November 2nd, 2022. This 36 piece magnetic tile set will be selling for just $14.99 and includes a variety of shapes and colors. On December 7th, 2022 you will have another chance to pick up some more Mag Tiles with two different sets of 52 tiles.
The set is for kids ages 3 and up and would make a great gift. These types of magnet tiles help to promote creativity and use spatial and tactile skills. Building with magnet tiles can help develop math and science skills as well.
It isn't really clear from the product information online if these sets work well together or not. I assume that since they are the same type of product and the same brand they would work ok together but until they are out in the real world we won't know for sure
This type of magnetic tile toy was popularized by Magna Tiles (check price on Amazon). The name brand version looks to be much more expensive and like most things there are some budget alternatives like Picasso Tiles (check price on Amazon) and others.
This could be a great stocking stuffer for kids and it is the type of toy that can be used over and over in many different ways so it can last for years. It looks like a decent budget option for a Magna Tiles alternative.
Been Happy Mag Tiles (36 pcs set) Details
Price: $14.99 (2022, price may vary)
Available: 11/2/2022
36 Piece Set
Included Pieces: 12 squares, 8 equilateral triangles, 4 right triangles, 2 squares with arch, 4 squares with 4 square cutouts, 4 isosceles triangles and 2 square with rectangle cut outs in assorted colors
Children can engage in hours of imaginative free play
Helps develop math, science, spatial and tactile skills
Safe, durable, and built to last for years
Magnetic magic to ensure connectivity between tiles
For Ages 3+
Aldi Product Code: 11267
Been Happy Magnetic Tiles (52 pcs set) Details
Price: $19.99 (2022, prices may vary)
52 pieces in each set
1st set (Green Box): 12 pentagons, 20 triangles and 20 squares
2nd set (Red Box): 16 triangles and 36 squares 
Playtime that helps develop creativity and imagination
These toys could help develop color training and coordination
Colors included: translucent red, purple, blue, pink, yellow, orange and green
Aldi Product Code: 8347
Magna Tiles Alternative: Is This A Good Deal?
The Bee Happy Mag Tiles from Aldi are just $14.99 for a 36 piece set which looks to be a pretty solid deal overall. The name brand Magna Tiles are quite a bit more expensive. The Magna Tiles have the advantage of having larger sets and more variety of tiles like animals, vehicles, and different styles of tiles.
You will still save money by buying 3 sets of the Bee Happy Mag Tiles for $45 which gives you a total of 108 tiles.
There are more affordable magnetic tile toys out there than the name brand Magna Tile. Another popular brand that is on the cheaper end is Picasso Tiles.
I have seen sales for this brand on Amazon the would make it cheaper than the Bee Happy Mag Tiles if you are going with a larger set like this 100 pcs set. Be sure to check for additional coupons on the page. I have seen a lot of 10-15% additional off at checkout coupons on Amazon recently.
If you are comparing prices it is helpful to compare the cost per tile and the Bee Happy Mag Tiles come out to about $0.42 per tile.
It looks like Aldi's Magnetic Tiles are probably the cheapest if you want a small set. But you can get better deals on larger tile sets on Amazon. One thing to consider is whether the Bee Happy Mag Tiles will be compatible with other brands.
That could be important if you want to expand the set in the future. I expect they would work together ok but if the size is significantly different they may not.
Sale
Bestseller No. 1
Bestseller No. 2
Sale
Bestseller No. 3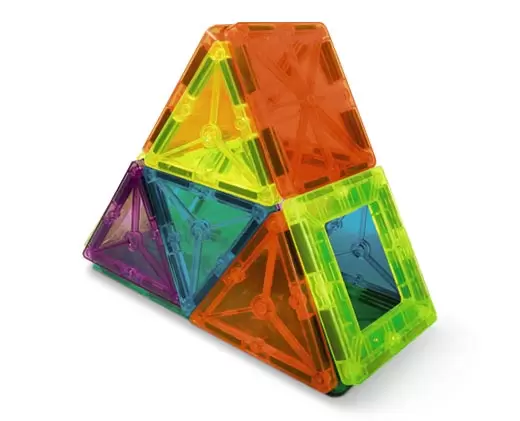 Bee Happy Mag Tiles (Magnetic Tiles) Reviews
5 out of 5 stars (based on 1 review)
Love these tiles
Bought some for my grandkids and they absolutely love ro play with them for hours
Last update on 2023-05-28 / Affiliate links / Images from Amazon Product Advertising API