Aldi Air Fryer
Aldi will have the Ambiano Air Fryer (8 qt) available as an Aldi Find the week of November 9th, 2022. It will be selling for $79.99 for a limited time.
Aldi offers multiple different air fryers throughout the year so you have to keep your eye out if you want a specific size, color, or feature.
Air Fryers are great for making nice crispy food without deep frying or waiting for your oven to heat up. They generally heat and cook much faster than even a convection oven.
To me the biggest downside with most air fryers is they tend to be bulky and take up a lot of cabinet space for a single function. Even with that I think it is worth it to have one as long as you have the space for it.
I personally went with a countertop model that also functions as a toaster oven and small convection or conventional oven. It takes up more space but also replaces a toaster and gives lets me cook smaller oven stuff without heating up my large oven.
You usually don't have to wait long for another shot at an Air Fryer at Aldi because they generally have a few different versions throughout the year. Earlier in 2022 they had a Compact Air Fryer and a XL Air Fryer.
Gotta make sure you have a air fryer for Aldi's Red Bag Chicken.
Ambiano 8QT Air Fryer
Price: $79.99 (2023, prices may vary)
Available: 1/25/23
Capacity: 8 Quarts
Add style and functionality to your kitchen with Black or Pale Aqua Air Fryer.
Cook to perfection with adjustable temperature up to 400 °F.
Monitor cooking progress with digital touchscreen display, automatic shutoff and audible tone.
Sleek matte finish exterior for easy cleaning.
Easy cleanup with dishwasher safe nonstick basket and crisping tray.
Aldi6 QT Air Fryer
This Ambiano Air Fryer has a 6 qt capacity and can hold up to 5 pounds of food. Aldi says this size of air fryer should be good for 6-8 people. It is a 1500W air fryer and has an adjustable temperature range up to 400 degrees (F).
Price: $59.99 (2022, prices may vary)
Available: 11/9/2022
Size: 6 Quart (5.7 L)
Adjustable temperature range- up to 400 °F
Digital touch display
60-minute auto shut off timer and audible tone
Stainless steel heating element produces faster heat up
High performance circular heat technology
Food capacity: 5 pounds (2.27 kg)
Recommended for 6–8 people
Color: Matte black exterior
Easy clean up: Dishwasher safe nonstick basket and crisping tray
Power: 1500W
Aldi Product Code: 707781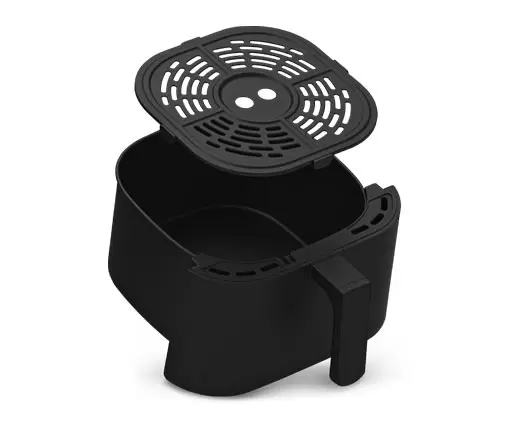 Is It A Good Deal?
This looks like another pretty good deal from Aldi. You can pick up air fryers pretty cheap now but this is a pretty large air fryer so I don't see too many that are significantly cheaper than the Ambiano Air Fryer.
A good option on the higher end of air fryers with multiple functions in the Instant Vortex Plus Air Fryer. It is a good amount more expensive than the Ambiano but it is one of the most popular air fryers and adds features like dehydrator and baking functions.
A budget option with good reviews is the UTEN Air Fryer on Amazon. If you can get it on sale it may be a bit cheaper than Aldi's air fryer. It is just slightly smaller at 5.8 quarts vs 6 quarts for the Ambiano fryer.
Sale
Bestseller No. 1
Ninja AF101 Air Fryer that Crisps, Roasts, Reheats, & Dehydrates, for Quick, Easy Meals, 4 Quart…
Now enjoy guilt free food; Air fry with up to 75 percent less fat than traditional frying methods; Tested against hand cut, deep fried French fries
Wide temperature range: 105 degree Fahrenheit to 400 degrees Fahrenheit allows you to gently remove moisture from foods or quickly cook and crisp foods with convection heat
4 quart ceramic coated nonstick basket and crisper plate fit 2 pounds of french fries. Cord length (feet) – 2.6
Bestseller No. 2
Bestseller No. 3
Ninja DZ201 Foodi 8 Quart 6-in-1 DualZone 2-Basket Air Fryer with 2 Independent Frying Baskets,…
2 INDEPENDENT BASKETS: The original Air Fryer with 2 independent baskets, the XL air fryer lets you cook 2 foods, 2 ways, at the same time, eliminating back-to-back cooking like a traditional…
SMART FINISH & MATCH COOK: DualZone Technology allows you to choose between the Smart Finish feature, which unlocks cooking 2 foods 2 ways that finish at the same time, and the and a Match Cook button…
6-IN-1 FUNCTIONALITY: Includes 6 versatile cooking programs: Air Fry, Air Broil, Roast, Bake, Reheat, and Dehydrate. The baskets can be washed in the dishwasher or by hand.
Ambiano Air Fryer Reviews
0 out of 5 stars (based on 0 reviews)
There are no reviews yet. Be the first one to write one.
Last update on 2023-06-04 / Affiliate links / Images from Amazon Product Advertising API