Aldi's Keto Friendly Dinner Rolls
L'oven Fresh, the in-house bakery brand of Aldi, is bringing back a popular product: the L'Oven Fresh Keto-Friendly Dinner Rolls. These rolls are low in carbs and high in protein, making them a great option for those following a ketogenic diet. They are also vegan making them an easy addition to a vegan or vegetarian diet.
These are ready to eat straight from the package, so there's no need to spend time mixing, kneading, or rising. They are also small and portable, making them an easy and satisfying snack to enjoy on the go or add to your Aldi Meal Prep.
These dinner rolls are also affordable. At just $3.99 for a pack of twelve rolls, they are a fraction of the price of similar products from specialty bakeries and health food stores. They are available multiple times throughout the year as Aldi Finds or seasonal items.
Typically I see them in stores around major US holidays. So if they are your favorite be sure to stock up when they are available.
The L'oven Fresh Keto-Friendly Dinner Rolls are convenient option for those following a ketogenic diet. Whether you are looking for a tasty and satisfying snack, or a low-carb alternative to traditional dinner rolls, these rolls are sure to hit the spot.
If you miss out on these or need a regular loaf of keto bread Aldi also carries L'Oven Fresh Keto Bread year round.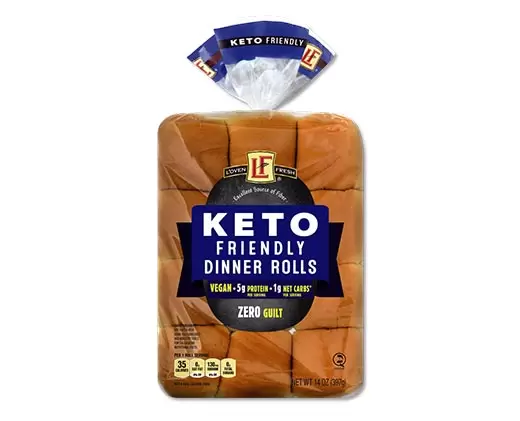 L'Oven Fresh Keto Friendly Dinner Roll Details
Price: $3.99 (2023, prices may vary)
Available: 3/29/2023
Size: 14oz
Vegan
5g protein per roll
1g Net Carb per roll
35 Calories per roll
Are They A Good Deal?
Bestseller No. 1
Bestseller No. 2
Yez! Artisan Keto Dinner Rolls (36 slider size) – Clean Keto, Paleo, Vegan – Low carb, Gluten free,…
HEALTHY CLEAN INGREDIENTS – Almond Flour, Organic Coconut Flour, Organic Whole Husk Psyllium, Organic Chia Seeds, Yeast, Himalayan Pink Sea Salt, Organic Stevia Powder, Purified Water
FRESHLY BAKED – Baked to ship, Yez! Artisan Keto Dinner Rolls will help you to stay on track while giving you endless possibilities creating easy keto snacks. We recommend freezing the rolls that…
SIZE – Each roll is slider size 1.5 oz (42 grams). Nine packs with four rolls each.
Bestseller No. 3
L'Oven Fresh Keto Dinner Rolls Reviews
5.0 out of 5 stars (based on 4 reviews)
Last update on 2023-12-06 / Affiliate links / Images from Amazon Product Advertising API