RangeMaster Portable Flat Top at Aldi
Whether you re cookinging in the backyard or at a parking lot tailgate this portable gas griddle will bring the heat. The Range Master Portable Tabletop Gas Griddle will be available as an Aldi Find starting 6/7/2023 for $69.99. That is $10 less than last year's price!
Just set this on a sturdy tabletop, hook up to propane and you are ready to go. The 260 square inch cooktop is made of pre-seasoned steel and heats up quick.
A steel flat top like this is very versatile, you can cook pancakes and bacon in the morning, burgers at lunch, and steaks for dinner all on the same griddle. It puts out 18,000 BTUs of heat and uses a reliable push and turn ignition.
Grab a Portable Table From Aldi and you will have a full portable cook station!
According to the reviewers (check the bottom of the this page) the 2022 model had some issues with missing parts. Hopefully Aldi has sorted that issue out for 2023!
Sale
Royal Gourmet 23 Inch Outdoor Portable Flat Top Grill Table Top Propane Gas Mini Griddle Grill on…
PORTABLE AND CONVENIENT: Portable and easy to store. With sturdy feet for enhanced stability, this table top grill is perfect for any outdoor cooking events, like camping and tailgating, by using 1…
QUICK ASSEMBLY: No more worries for complex assembly procedure before grilling, so you'll be cooking in no time
FAST AND EVEN HEATING: Start cooking instantly with just the simple push of button and integrated piezo igniter. Temperature can be adjusted as you wish from low to high. With 12,000-BTU…
Sale
Royal Gourmet PD1301R Portable 24-Inch 3-Burner Table Top Gas Grill Griddle with Cover, 25,500 BTUs,…
PORTABLE AND CONVENIENT: Portable and easy to carry. With sturdy feet for enhanced stability, this table top grill is perfect for small outdoor cooking events, like camping and tailgating, fueled by…
FAST HEATING: Three separately controlled burners offer an overall of 25,500 BTU cooking power, while integrated piezo ignitor provides instant ignition featuring by the simple push of a button.
SPACIOUS COOKING SURFACE: This tabletop grill comes with 316 sq. in. cooking surface.
Range Master Tabletop Griddle Details (2023)
Price: $69.99 (2023, prices may vary)
Availability: 6/7/2023 (Limited Time Aldi Find)
Cooking area: 260 sq. in.
Griddle top: Pre-seasoned steel
Griddle surface: Spacious and heavy-duty
Cleanup: Effortless
Heat up: Quick
Portability: Versatile
Cooking power: 18,000 BTU
Ignition: Reliable push and turn ignition
Usage: Great for camping or tailgating, suitable for cooking eggs, burgers, hot dogs, steaks, and more
Assembled dimensions: 26.77″ x 17.5″ x 8.54″
Fuel type: Propane gas (not included)
Warranty: Two-year limited warranty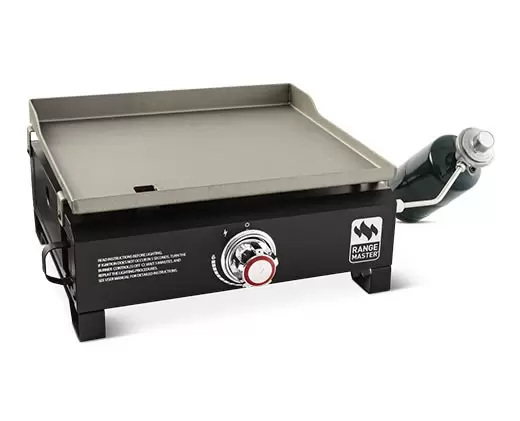 2022 Gridle Details
Price: $79.99 (2022, prices may vary)
Available: 7/16/2022
260 square inch cooktop
Pre-seasoned steel griddle top
Heavy duty griddle surface with plenty of cooking space
Fast, effortless cleanup
Quick heat up
Versatile cooking and portability
18,000 BTUS of cooking power
Large cup collects grease for easy cleanup
Reliable ignition (push and turn)
Portable design: Great for camping or tailgating!
Easily cook eggs, burgers, hot dogs, steaks and more!
Assembled dimensions: 26.77 inches x 17.5 inches x 8.54 inches
Uses propane gas (not included)
Two-year limited warranty
Five-year burner warranty
Aldi Product Code: 703855
Is It A Good Deal?
Aldi's Tabletop Gas Griddle is selling for $79.99 when it hits stores, but is there a better deal out there? Looking at the details we have for the Range Master Gas Griddle I have to make a few assumptions on the details because we don't have all the information we would want. First assumption I am making is that it uses a 1 pound propane tank. That size tank is very common on this type of portable grill but Aldi does not list what type of tank it uses or if there are any adapters included. The 1-lb tank is great for portability but if you are using it at home you may want to run it off your 20-lb propane tank that you use with your standard gas grill. In that case you may need an adapter if one isn't included.
The next assumption is that this is a single burner unit since it only has one controller. It could be two since 18000 BTUs is high for a single burner, but not unheard of. The only real difference for you is with one burner in the center you may have more of a hotspot and a bit less control.
So I will look at portable gas griddles that use a 1lb tank with a single burner. The best option as far as price and reviews that I was able to find is the Royal Gourmet PD1202S Portable Gas Griddle. It is selling for a similar price at the time of this writing. It has a 12,000 BTU rectangle burner that is supposed to distribute heat evenly.
Most other portable gas griddles in this size range are selling for $100-$150 although they often have multiple burners/controls. If you want something with a two controls from a well known brand you could try this Pit Boss Portable Gas Griddle that looks like a good value for the money.
Range Master Portable Gas Griddle Reviews
2.0 out of 5 stars (based on 4 reviews)
Last update on 2023-11-30 / Affiliate links / Images from Amazon Product Advertising API