Aldi Folding Camping Chairs
These portable chairs are the perfect companion for your outdoor adventures. Whether you're camping, picnicking, or attending a sporting event, these chairs offer comfort and convenience on the go.
It's important to note that Adventuridge Folding Camping Chairs are part of Aldi Finds, which means they are limited-time items available at different times throughout the year.
Keep an eye out for the various models that Aldi offers, as they provide different features and styles to suit your needs. Don't miss out on these incredible chairs that combine quality, affordability, and portability for your next outdoor escapade.
If you prefer to lay back in luxury while you are out camping be sure to check out the Adveturidge Foldable Hammock.
Adventuridge Oversized Mesh Back Chair
Price: $19.99 (2023, prices may vary)
Available: 8/30/2023
Built-in XL cup holder and phone holder
3-can cooler in armrest
Open dimensions: 35.4″ x 23.6″ x 37.8″
Includes carry bag with shoulder strap for easy carrying and storage
Durable, polyester fabric, padded seat and a breathable mesh back
Sturdy steel frame with powder coating
350-lb. weight limit
Colors: Blue or Green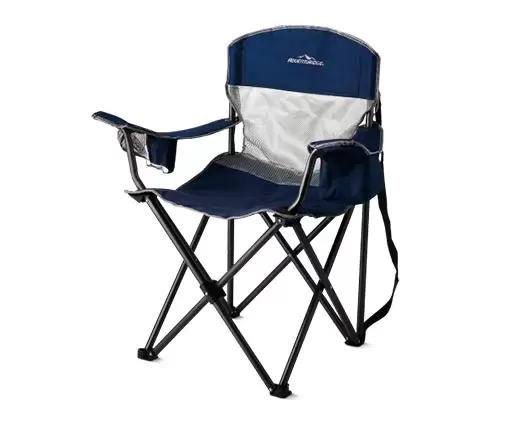 Bestseller No. 1
Bestseller No. 2
Bestseller No. 3
Adventuridge Hammock Chair
Aldi's online listing doesn't give many details for this $50 chair besides the price and colors. But from what I gather from the pictures it is meant to be fairly portable, folding down to a decently small size. The seat hangs from the frame kind of like an hammock and I expect you can rock in it a bit. Aldi does not give us dimensions or a weight capacity so hopefully there will be more details on the packaging!
Price: $49.99 (2023, prices may vary)
Available: 6/7/2023 (limited time Aldi Find)
Colors: Green, Black, or Brown
Folding Hammock-Style Chair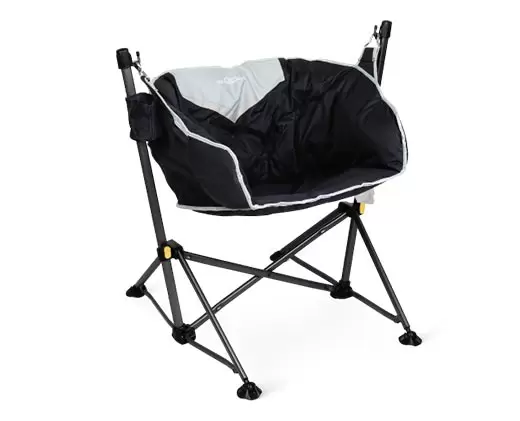 More Options
Sale
Sale
Adventuridge Folding Director's Chair
Starting on May 24, 2023, Aldi has a cool new chair for sale. It's called the Adventuridge Folding Director's Chair and it's going to cost $39.99. This chair has a nifty foldable side table that comes with a big cup holder and a special place to put your tablet. The chair itself is a breeze to fold up and has a handle so you can lug it around easily.
The chair's made of fabric that doesn't get all sticky when it's hot. Its strong steel frame is covered with a tough coating to keep it from rusting. You can choose from blue, green, or gray. And the best part? It can hold up to 300 lbs. So it's as tough as it is comfy.
Details
Price: $39.99 (2023, prices may vary)
Available: 5/24/2023 (Limited Time Aldi Find)
Folding side table: features an oversized cupholder and tablet slot
Easy to fold: includes a carry handle
Comfort: padded headrest and armrests
Fabric: durable, breathable, moisture-wicking polyester
Frame: heavy-duty, powder-coated steel
Open dimensions: 22.8″ x 35.8″ x 38.5″
Colors: Blue, Green, or Gray
Max weight limit: 300 lb.
Is It A Good Deal?
Sale
Adventuridge Lightweight Portable Chair
The Adventuridge Lightweight Portable Chair is the perfect companion for outdoor adventures. With its quick setup frame and convenient corner loops, you can easily set up the chair wherever you go. Not only is it easy to assemble, but it also offers comfort and durability, ensuring a pleasant seating experience.
The chair comes with a carry bag that has a handle, making it convenient for storage and transportation. With open dimensions of 20.5″ x 20.5″ x 26.6″ and a weight limit of 250 lb., it accommodates a wide range of users. The chair features a powder-coated iron frame, providing stability and longevity, while still remaining lightweight for easy portability.
Details
Price: $14.99 (2023, prices may vary)
Available: 5/24/2023 (limited time Aldi Find)
Quick setup frame and corner loops for convenience
Comfortable and durable camping chair
Carry bag with handle for storage and transportation
Open dimensions: 20.5″ x 20.5″ x 26.6″
Weight limit: 250 lb.
Powder-coated iron frame
Lightweight design
Available in green or blue color options
Is It A Good Deal?
Sale
Adventuridge Folding Camping Chair
Aldi is helping you prep for that upcoming camping trip with the Adventuridge Foldable Chair. This type of portable folding chair is perfect for camping but also great for the park, ball games, or the back yard. Aldi's Camp Chair will be selling for $17.99 starting July 20th. 2022.
This Aldi Find will be available in three colors (blue, green, or orange). This camp chair has a powder coated steel frame and durable polyester fabric. The chair includes a matching carry bag. You could pick this up along with the Adventuridge Folding Cart and Adventuridge Tent for a matching camping trip.
Aldi Camping Chair Details
Price: $12.99 (2023, prices may vary)
Available: 6/14/2023
Colors: Blue, Green or Orange (look darker than 2022 model)
Includes carry bag, convenient built-in cup holder and mesh storage net on back
Frame: Powder Coated Steel Frame
Material: Durable polyester fabric
Open dimensions: 19.7″ x 32.3″ x 35.3″
2022 Model
Price: $17.99 (2022; prices may vary)
Available: 7/20/2022
Color options: Blue, Green or Orange
Carrying case included
Built-in cupholder on one side
Mesh net on back for added storage
Sturdy powder coated steel frame
Made of durable polyester fabric
Dimensions when open: 19.7 inches x 32.3 inches x 35.3 inches
Aldi Product Code: 52802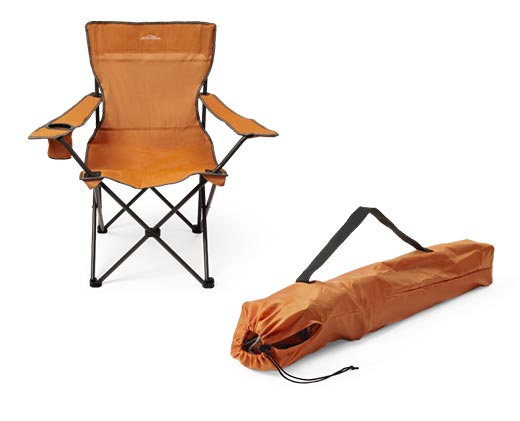 Is It A Good Deal?
Aldi is selling this camping chair for $17.99 when it hits store shelves. Let's look to see if that is a good deal compared to the competition. One of the big names in camping gear that you will see at a bunch of stores is Coleman. Of course Coleman makes multiple camping chairs but the Coleman Broadband Mesh Quad Chair looks pretty similar to the Adventuridge. It has a mesh back which is one advantage that I see over Aldi's version.
If you go with a less well known brand you can save a few bucks by going with the Quik Chair. So you can definitely go cheaper than the Adventuridge Chair but you will have to go with a lesser known brand. I would probably choose the Coleman Chair if you can get it for the same price as Aldi's camp chair.
Bestseller No. 1
Sale
Bestseller No. 2
Bestseller No. 3
Adventuridge Portable Folding Chair Reviews
Let Us Know Which Chair You are reviewing!
2.0 out of 5 stars (based on 1 review)
Adventuridge folding chair
Not sure what to rate this chair?!? It has everything you need. Really, but it's for a right-handed person!! A bit awkward for a left-handed person !!
Last update on 2023-12-06 / Affiliate links / Images from Amazon Product Advertising API