Aldi Folding Camping Chair
Aldi is helping you prep for that upcoming camping trip with the Adventuridge Foldable Chair. This type of portable folding chair is perfect for camping but also great for the park, ball games, or the back yard. Aldi's Camp Chair will be selling for $17.99 starting July 20th. 2022. This Aldi Find will be available in three colors (blue, green, or orange). This camp chair has a powder coated steel frame and durable polyester fabric. The chair includes a matching carry bag. You could pick this up along with the Adventuridge Folding Cart and Adventuridge Tent for a matching camping trip.
Adventuridge Folding Camping Chair
Price: $17.99 (2022; prices may vary)
Available: 7/20/2022
Color options: Blue, Green or Orange
Carrying case included
Built-in cupholder on one side
Mesh net on back for added storage
Sturdy powder coated steel frame
Made of durable polyester fabric
Dimensions when open: 19.7 inches x 32.3 inches x 35.3 inches
Aldi Product Code: 52802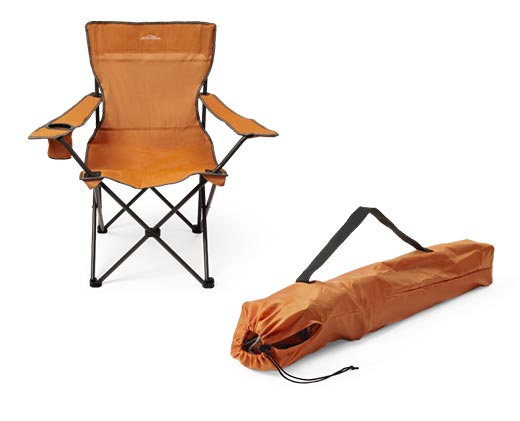 Is It A Good Deal?
Aldi is selling this camping chair for $17.99 when it hits store shelves. Let's look to see if that is a good deal compared to the competition. One of the big names in camping gear that you will see at a bunch of stores is Coleman. Of course Coleman makes multiple camping chairs but the Coleman Broadband Mesh Quad Chair looks pretty similar to the Adventuridge. It is selling for $17.99 as well right now but has a regular price of $24.99. It has a mesh back which is one advantage that I see over Aldi's version.
If you go with a less well known brand you can save a few bucks by going with the Quik Chair. This chair is selling for $14.99 at the time of writing this. You can go even cheaper with the Ozark Trail Quick Fold that is on sale for $8.50 as I write this. So you can definitely go cheaper than the Adventuridge Chair but you will have to go with a lesser known brand. I would probably choose the Coleman Chair if you can get it for the same price as Aldi's camp chair.
Adventuridge Portable Folding Chair Reviews
2 out of 5 stars (based on 1 review)
Adventuridge folding chair
Not sure what to rate this chair?!? It has everything you need. Really, but it's for a right-handed person!! A bit awkward for a left-handed person !!