Cold Smoked Salmon From Aldi
Aldi carries Cold Smoked Salmon year round in the refrigerated deli section along with a few different varieties that rotate in throughout the year as Aldi Finds. Cold smoked salmon at Aldi is typically sold pre-sliced and ready to eat.
Of course Aldi also carries a variety of fresh, frozen, and canned salmon. Check out all of the non-smoked Aldi Salmon here.
Lox VS Cold Smoked Salmon VS Gravlax
It can be easy to get these three preparations of salmon confused since they tend to look similar and have some overlap in technique.
First lets talk about smoke. Smoked salmon obviously is smoked and will pick up some of those flavors while lox is not smoked. Gravlax, like lox, is not traditionally smoked either, BUT Aldi does sell Cold Smoked Salmon Gravlax.
The next difference is how they are cured. Lox is typically cured in a salty brine and gravlax is cured with salt, sugar and dill along with some other additions depending on the recipe. Smoked salmon is typically cured as well but it is a general term that covers any salmon that has been smoked.
Cold Smoked VS Hot Smoked Salmon
The main difference between cold smoked salmon and hot smoked salmon is the texture of the final product. Cold smoked salmon will still have a raw salmon texture while the hot smoked salmon will be closer to firmer and flakier, closer to regularly cooked salmon (but still different).
I don't recall seeing hot smoked salmon at my Aldi in the past but in other stores it is typically sold in larger chunks or fillets vs the thinly sliced cold smoked salmon.
Specially Selected Cold Smoked Salmon
Aldi carries the 3oz package of cold smoked salmon year round and a larger 10.6 oz value pack occasionally as an Aldi Find. This could be something to at to your low carb or keto grocery list.
Standard Size: 3oz package
Value Pack Size: 10.6 oz package (available 12/14/2022)
Cold Smoked Atlantic Salmon
ASC (Aquaculture Stewardship Council) Certified
BAP (Best Aquaculture Practices) certified
Deli sliced, salted and smoked with beech wood or hard wood
Gold Seal Award
SIMPLE. SUSTAINABLE. SEAFOOD.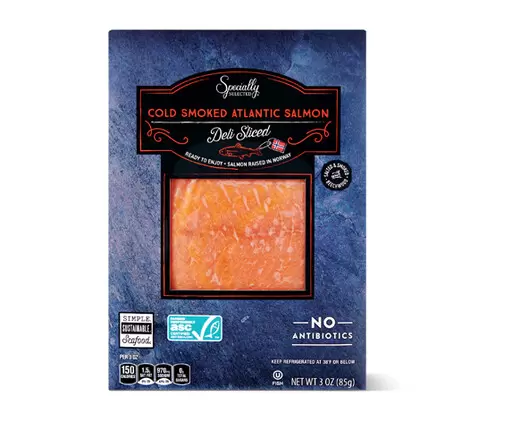 Specially Selected Everything Bagel Seasoning Cold Smoked Salmon
Price: $4.39 (2022, prices may vary)
Available: 5/17/2023
Size: 3 ounces of salmon.
BAP certified (Best Aquaculture Practices)
Atlantic Salmon
Specially Selected Cold Smoked Salmon Gravlax
Gravlax is a similar to lox but it is usually cured with salt, sugar, and dill instead of just a salt brine. Beyond that it can be flavored with other seasonings as well but it will be pretty similar to other cold smoked salmon or lox. Gravlax is a Scandinavian preparation and is often served with rye bread and a mustard sauce.
Aldi Smoked Salmon Gravlax details
Price: $4.39 (2022, prices may vary)
Available: 12/7/2022
Size: 3 ounces of salmon.
ASC certified (Aquaculture Stewardship Council certified)
Salmon Raised in Norway
3–5 slices of cold smoked salmon per package.
Boneless, skinless and IVP (I think IVP refers to individually vacuum packed)
Aldi Product Code: 51690
Specially Selected Cold Smoked Salmon Trio (Flavored)
Occasionally Aldi will come out with a variety pack of flavored smoked salmon as a limited time item. The most recent version is this cocktail themed three pack. The Smoked Salmon Trio includes
Price: $12.99 (2022, prices may vary)
Available: 12/7/2022
Size: 9oz (255g)
ASC (Aquaculture Stewardship Council) certified
Includes 3 flavors: Old Fashioned, Mojito and Black Currant/Decadent Red Wine
Ready to eat smoked salmon
Antibiotic free
Smoked with beechwood
Product Code: 13356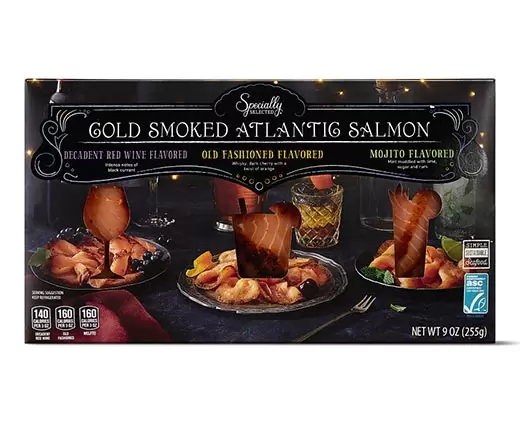 Aldi Smoked Salmon Reviews
Be sure to let us know the specific type/flavor of smoked salmon you are reviewing and how you like to use it!
0.0 out of 5 stars (based on 0 reviews)
There are no reviews yet. Be the first one to write one.
Last update on 2023-11-30 / Affiliate links / Images from Amazon Product Advertising API