Aldi Sewing Machine
The Ambiano 12-Stich Sewing Machine will be selling for just $39.99 as an Aldi Find! It's got 12 built-in stitch patterns, which is pretty sweet. Plus, it comes with everything you need to get started, like 2 thread spools, 2 metal bobbins, a needle, threader, foot pedal, and AC adapter.
You can switch between two speeds – fast or slow – depending on your sewing needs. And if you make a mistake, don't worry, the automatic thread rewind feature has got your back.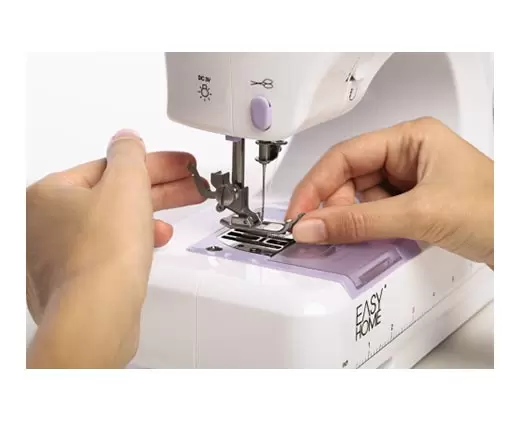 One of the coolest things about this machine is the free arm, which lets you sew in circles, like on cuffs or pant bottoms. You can even switch out the presser foot if needed.
And if you're worried about not being able to see what you're doing, there's an LED sewing light included to brighten things up. Best of all, you can power it up using an AC/DC adapter or 4 batteries (which are included). So, no need to worry about cords getting in your way or finding an outlet.
Ambiano Sewing Machine
Price: $39.99 (2023, prices may vary)
Available: 2/15/23
12 stitch patterns built in
Included: two thread spools, two metal bobbins, a needle, threader, the foot pedal, batteries, and AC adapter
Two speeds: high or low
Automatic thread rewind function
Free arm: for circular sewing (like on cuffs or pant bottoms)
Interchangeable presser foot
LED sewing light included
Can be used wherever it is convenient with battery power or plugged in
Uses AC/DC power adapter or 4 batteries (included)
Is It A Good Deal?
Aldi's sewing machine looks like it is priced pretty competitively to similar portable sewing machines, I expect that most have similar features and quality but many some of the tope sellers on Amazon cost just a little bit more so it might be worth it to check out some of the reviews to see which is going to be best for you.
Bestseller No. 1
Sew Mighty Mini Sewing Machine – Portable, Battery & AC Powered, 12 Programmed Stitch Patterns,…
🧵 The Sew Mighty Mighty Multi is a two speed, reversible, user-friendly sewing machine that's loaded with features and ideal for both beginners and advanced users alike. It is affordable and can…
🧵 The Mighty Multi has twelve pre-programmed stitch patterns, including a four-step buttonhole pattern. An adjustable stitch length and zigzag width allows you to customize stitches.
🧵 Features include automatic bobbin winder, easy-select stitch dial, built-in free arm, integrated work light, cuff notch for easy cuff alterations, thread tension controller and a two-speed…
Sale
Bestseller No. 2
Mini Sewing Machine for Beginner, Portable Sewing Machine, 12 Built-in Stitches Small Sewing Machine…
【The Perfect Home Sewing Machine Kit】This mini sewing machine set has what you need to get started including bobbins, spools, a spare needle, and needle threader.You don't need to spend extra…
【Reverse Sewing &12 kinds of stitches】Our mini sewing machine has reverse sewing to help great sewing. 12 kinds of different stitch patterns, including straight stitches, zigzag stitches, etc., to…
【Sewing machine dual power and double switch】Our household sewing machine can be controlled by foot switch and button switch, whether you are a beginner or a sewing enthusiast, you can easily…
Bestseller No. 3
JUCVNB Mini Sewing Machine for Beginners and Kids, Sewing Machines with Reverse Sewing and 12…
🧵【PORTABLE ELECTRIC SEWING MACHINE】The Small Sewing Machine for Beginners is lightweight and easy to store and carry. You can sew thick fabrics like denim and soft fabrics like silk. Meet the…
🧵【12 IN-STITCHES AND REVERSE STITCHING】12 different kinds of stitch patterns, including straight stitches, zigzagging stitches, etc., to meet your different sewing needs, all stitch widths and…
🧵【DOUBLE POWER AND DOUBLE SWITCH】The Household Sewing Machine is equipped with an AC adapter and 4 AA batteries (not included). There are two power modes for control, and the battery mode is…
Ambiano Sewing Machine Reviews
5 out of 5 stars (based on 1 review)
Happy Happy Happy
It is not only adorable but very functional. It made my day when I realized it came w black & white thread…w bobbins already full with same. It was even threaded. It worked beautifully. Easy to handle… Light weight. Perfect for those small projects. I was so thrilled I got to trim my shirt in no time. Happy Happy Happy. I rate this machine a 10. I would certainly recommend this sewing machine. ☀️☀️
Last update on %last_update% / Affiliate links / Images from Amazon Product Advertising API