If you go through a lot of soda or sparkling water and want to make it right at home you should take a look at the Ambiano Sparking Water and Soda Maker. It will be available as an Aldi Find March 15th, 2023 for $44.99. This small appliance uses standard size screw in CO2 cartridges to make carbonated beverages like sparkling water. It looks like one bottle would be included, but that is not mentioned in the description so I don't know if it is included or what size.
This would be similar to a SodaStream type appliance and looks like it may be one of the cheaper options on the market right now. You can find similar carbonators from multiple different brands but keep in mind that you will need CO2 cylinders for them to work and some models will include a cylinder/carbonator with purchase so the higher price may be worth it in that case.
Most SodaStream and other carbonators use a 60L screw in CO2 cylinder that can be exchanged when empty. Aldi does not tell us the size of CO2 Cylinder that the Ambiano Carbonator uses besides saying it is a standard size screw in cylinder. I would guess that it uses the 60L cylinder but be sure to check the package for details.
Bestseller No. 2
Another thing to consider is these carbonators are often meant to only carbonate water, and then add flavoring in after (like a syrup for soda). So it may not work to carbonate juice or similar pre-flavored liquids.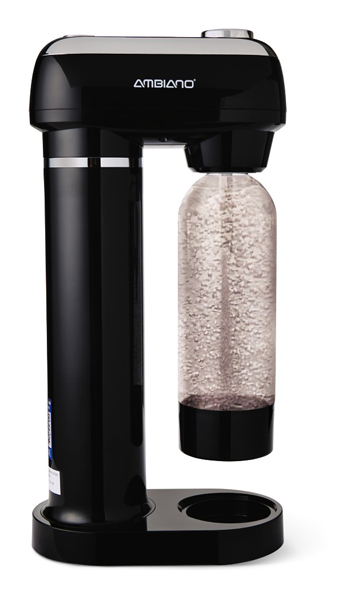 Ambiano Drink Carbonator
Price: $44.99 (2023, prices may vary)
Available: 3/15/2023
Makes Sparkling Water, Soda, or other Carbonated Drinks
Easy to use non-electric design
Simply Push a Button to carbonate
Available Colors: White, Blue, or Black
Fits standard size CO2 Screw in cylinders (not included)
See packaging for ordering info for the CO2 Cylinders
Is It A Good Deal?
The Aldi Sparkling Water Maker looks like a pretty good deal at $44.99. It looks very similar to the Philips Sparkling Water Maker. Neither of these come with CO2 cylinders (which cost about $30), and neither use electricity.
A SodaStream is typically going to be a bit more expensive but they usually include a CO2 cylinder already. That is worth about $30 of the price so they are not that far above the other brands and have multiple models with different features.
Overall the Ambiano will probably be a bit cheaper that other options on the market but once you buy a CO2 cylinder the prices aren't as far apart.
Sale
Bestseller No. 1
Bestseller No. 2
Bestseller No. 3
aarke – Carbonator III Premium Carbonator-Sparkling & Seltzer Water Maker-Soda Maker with PET Bottle…
✅Newest Model/Generation 3 – Sparkling water maker featuring compact design and top of the line user-friendly engineering. Available in a range of classic finishes to elevate any countertop
✅Refreshing Carbonated Water – Want some added flavor? Add a splash of lemon, lime, or soda syrup that you'll enjoy anytime of the year. Try Aarke Essences and Syrups as well as Six Barrel Soda…
✅Quality-Centric Design – Forget the plastic soda makers of the past – when it comes down to performance, environmental impact, and standing the test of time, it's no contest. The Carbonator 3…
Sparkling Water or Soda Flavorings From Aldi
Aldi has a variety of drink mixes (lemonade, fruit punch, etc.) that could work as flavorings for your sparkling water but the liquid versions make work a little better than powders. Check out the options from Fit and Active or Pure Aqua on Aldi shelves for some ideas.
Another great option is fresh or frozen fruit, fresh fruit juice, or fruit purees for a relatively healthy alternative to soda.
If you are looking to recreate a favorite soda they sell many different syrups and mixes including brand names that are meant to recreate the soda taste at home.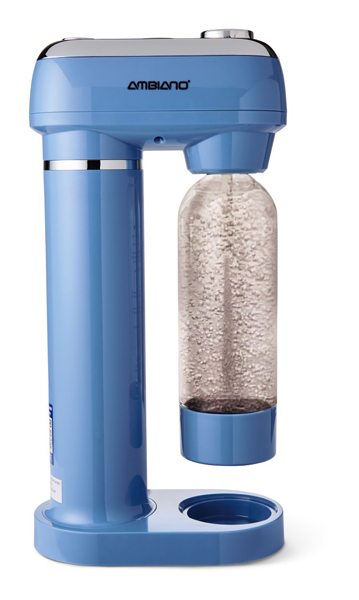 Ambiano Sparkling Water and Soda Maker Reviews
3 out of 5 stars (based on 10 reviews)
Last update on 2023-09-28 / Affiliate links / Images from Amazon Product Advertising API