Aldi Vacuum Food Sealer
Aldi is bringing out the Ambiano Vacuum Sealer as an Aldi Find for the week of 11/1/2023 for just $19.99. A vacuum food sealer like this is great for making that five dollar 10-pound bag of chicken quarters stay fresh in the freezer.
These are also handy if you cook with a sous vide / immersion circulator at all. You can also get Ambiano Vacuum Sealer rolls for $9.99 at the same time but Aldi says this sealer can use bags of all sizes.
This is the 3rd Ambiano Vacuum Sealer that Aldi has sold in the past couple years and it looks like they changed up the design again. So this looks to be a completely different model than the two they sold last year. The did lower the price by about $10 compared to last year as well!
Be sure to check the reviews down below because it looks like people had some issues with the ealier model. I haven't used Aldi's Vacuum Sealer but I have had a good experience with this Food Savers Vacuum Sealer.
Sale
Ambiano Vacuum Food Sealer Details
Price: $19.99 (2023, prices may vary)
Available: 11/1/2023
3 functions: Cutting, Vacuuming, and Sealing
Integrated cutter cuts vacuum sealing film to custom size
Can be used with different vacuum sealer films (suitable up to approx. 30cm in width)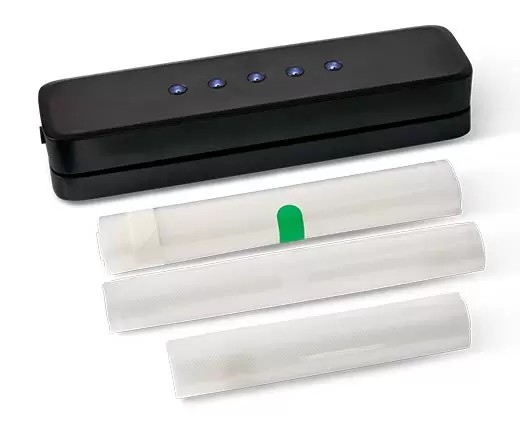 December 2022 Version
Price: $29.99 (2022, prices may vary)
Available: 12/14/2022
Small compact design
Easy to use with just four simple buttons
Integrated centering to cut sealer bags to desired size
Sealer bag fastening points make it easy to align and fasten sealer bags of all sizes
Aldi Product Code: 819419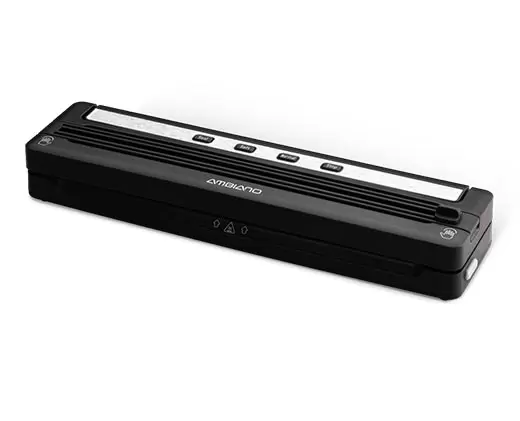 Ambiano Vacuum Sealer Bag Rolls
Price: $9.99 (2023, prices may vary)
Available in 8″ or 11″ refill rolls
Rolls can be used with any sealer
Date and content labels for easy storage
The rolls can be cut to any length
Keeps food fresh up to 5x longer
March 2022 Model
Price: $34.99
Available: 3/12/2022
3-in-1: vacuum, seal, and cut the vacuum seal bags
Air and water tight seal
2 vacuum levels
Integrated cutter
Ambiano Vacuum Food Sealer Rolls also available: $13.99
Can be used with other brands of vacuum sealer rolls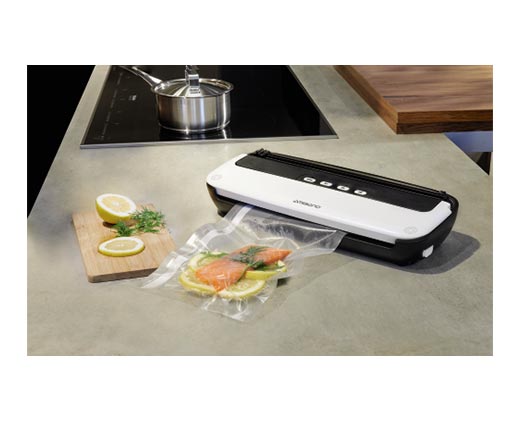 Ambiano Vacuum Sealer a Good Deal?
I thought I was getting a good deal when I bought this FoodSaver a couple months ago when it was on sale at Costco but if Aldi's version performs well at about 1/3 of the price I paid then it is a great deal. With a vacuum sealer like this the important thing is it needs to be able to pull a decently strong vacuum and get a very good seal.
The Food Saver system I bought does a good job at that and senses when the vacuum is strong enough and then seals the bag. The issue with the Food Saver, and most vacuum sealers I suspect, is if you get any liquid in the area that will be sealed you probably won't get a airtight seal.
Sale
I am not sure if the Ambiano has the automatic shutoff feature so it knows when the air is pulled out and it starts to seal on it's own but even if it doesn't I wouldn't worry to much about it.
I usually don't use that if I am sealing anything with moisture because it will often pull liquid into the sealing area giving a bad seal.
So if it doesn't have that feature you just watch it until it pulled the air out and then press a button to seal- no big deal unless you are using it a ton for dry foods.
The other feature you won't get with the Ambiano that you can get with some FoodSavers is the handheld sealer. But that only works with special bags and containers as far as I know and I haven't tried it out.
Other Options
If you go with the name brand (FoodSaver) you are probably going to spend around $100 for the basic version with similar features to the Ambiano unless you find it on sale. I got my FoodSaver for about $100 for a slightly more advanced version that also came with some bags and a vacuum sealer roll.
If you go with a non-name brand it looks like you can probably find one for about $50 with decent reviews. If you want to got with a smaller brand you can get down into the $30-35 range. But I would probably try the Ambiano Food Sealer at that price point first.
Reviews of Ambiano Vacuum Food Sealer
2.0 out of 5 stars (based on 4 reviews)
Last update on 2023-11-30 / Affiliate links / Images from Amazon Product Advertising API