Belavi Folding Rocking Chair
Aldi has had tons of patio and outdoor furniture lately but not a lot of options for space saving furniture. If you need something that can be folded up and tucked away when you aren't using it the Belavi Folding Rocker could be a great option. It will be available the week of 6/22/2022 for $89.99 as an Aldi Find. Whether you have a small space or want something you can throw in the car this style of rocker folds up for easy transport and storage. I like the "zero-gravity" style sling fabric construction. That type of chair tends to be nice and comfortable while staying lightweight and breathable. These will be available at the same time as the Belavi Padded Rocker Two Pack and the Belavi Two Person Swing. If you want to wait just a bit you could get the Belavi Folding Recliner with the same type of "zero-gravity" design or go traditional with a Wood Porch Rocker.
Aldi Folding Rocker Details
Price: $89.99 (2022, prices may vary)
Available: 6/22/2022
Dimensions: 37 in x 25.39 in x 42.52 in
Available Colors: Anthracite Grey or Black
Made with all-weather sling fabric that is fade-resistant and breathable
Sturdy, powder-coated steel frame
Folds for space-saving storage
Weight capacity: 225 pounds
Aldi Product Code: 811089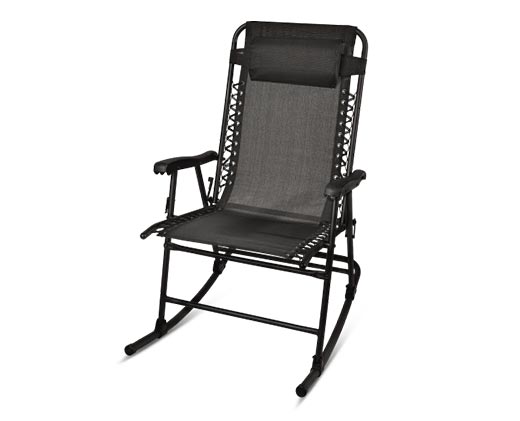 Is it a good deal?
At just under $90 this doesn't seem like something you need to rush to the store to get when it comes out. But let's take a look at other options out there and see whether or not it is a good deal. Looking online it is pretty common for this type of chair to sell for $90-$100 but I was able to find the AmazonBasics Textilene Zero Gravity Folding Lounge Rocker selling for $67.64 (at the time of writing this) with free shipping for Prime Members. That saves close to $25 but you may need to go with a different color. Overall it looks pretty similar to the Belavi and saves some money. I didn't see a ton of other options that save much money so the Belavi is still a decent price if you prefer to buy from Aldi or want the specific color that Aldi carries.
Reviews of Belavi Folding Rocker
0 out of 5 stars (based on 0 reviews)
There are no reviews yet. Be the first one to write one.