Belavi Folding Rocking Chair
Aldi has had tons of patio and outdoor furniture lately but not a lot of options for space saving furniture. If you need something that can be folded up and tucked away when you aren't using it the Belavi Folding Rocker could be a great option.
It will be available the week of April 12th, 2023 for $49.99 as an Aldi Find. Whether you have a small space or want something you can throw in the car this style of rocker folds up for easy transport and storage.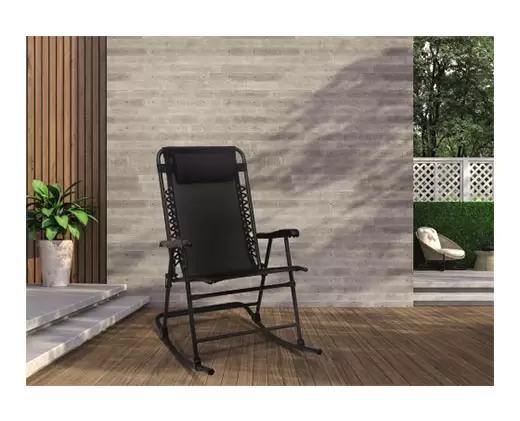 Last year's model of this folding rocker was selling for $89.99 so there was a solid price drop this year making this look like a pretty good buy.
I like the "zero-gravity" style sling fabric construction. That type of chair tends to be nice and comfortable while staying lightweight and breathable. Other outdoor seating options from Aldi are: Belavi Padded Rocker Two Pack, Belavi Two Person Swing, Belavi Folding Recliner with the same type of "zero-gravity" design or go traditional with a Wood Porch Rocker.
Aldi Folding Rocker Details
Price: $49.99 (2023, price may vary)
Available: 4/12/23
Dimensions: 37 inches x 25.6 inches x 42.52 inches 
Colors: Irish Cream or Black
Fade-resistant, all-weather sling fabric
Sturdy, powder-coated steel frame
Breathable fabric for comfort
Folds for space-saving storage
Weight capacity: 242 pounds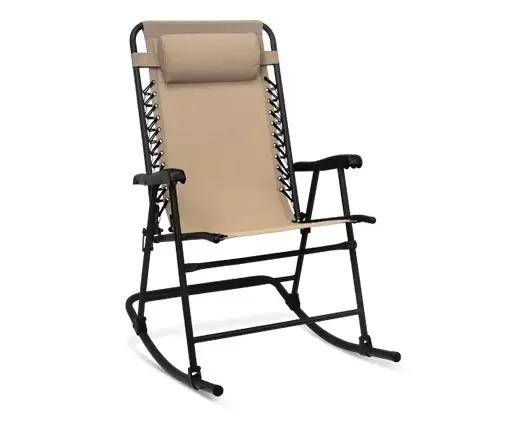 2022 Rocker Details
Price: $89.99 (2022, prices may vary)
Available: 6/22/2022
Dimensions: 37 in x 25.39 in x 42.52 in
Available Colors: Anthracite Grey or Black
Made with all-weather sling fabric that is fade-resistant and breathable
Sturdy, powder-coated steel frame
Folds for space-saving storage
Weight capacity: 225 pounds
Aldi Product Code: 811089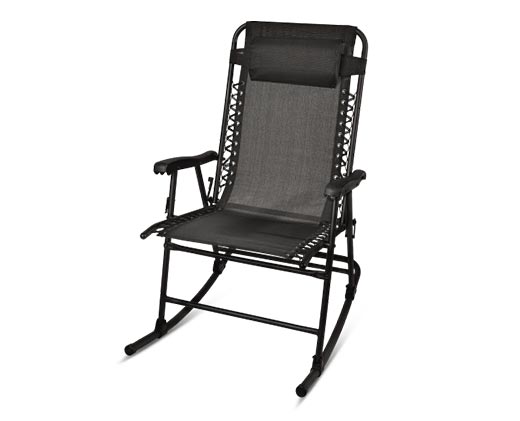 Is it a good deal?
At just under $90 last year this wasn't something you need to rush to the store to get when it comes out. But with the price dropping to $49.99 in 2023 this looks like a decent deal.
But let's take a look at other options out there and see whether or not it is a good deal. Looking online it is pretty common for this type of chair to sell for $90-$100 but I was able to find the AmazonBasics Textilene Zero Gravity Folding Lounge Rocker with free shipping for Prime Members.
Bestseller No. 1
Bestseller No. 2
Furniwell Patio Rocking Zero Gravity Chairs Outdoor Wide Recliner Portable Lounge Chair Folding with…
【Easy to carry】No assemble,easy to folds,conveniently store.You can take it anywhere you go. Loose latch and chair connection position is a normal phenomenon, belongs to the product itself design
【Rocking Function】In the fast-paced life, you need a rocking chair to release your stress anytime and anywhere.
【High Quality】This rocking chair is built with durable steel frame.The triangular structure is adopted in the design to increase its stability
Sale
Bestseller No. 3
Outsunny Outdoor Rocking Chairs, Foldable Reclining Zero Gravity Lounge Rocker w/Pillow, Cup & Phone…
Zero-Gravity Reclining Rocker: Our outdoor rocking lounge chair is a recliner or standing chair with a footrest. Enjoy rocking, laying, or sitting with bungee suspension, cool, breathable fabric, and…
Folding Rocking Chairs: Set up, tear down, and store fast. With a folding frame, you can keep zero-gravity comfort in your car.
Cup Holder Tray: Zero gravity rocking comfort isn't all; there's a place for your phone too. A tray offers cup holders, slots, and a place for snacks.
Reviews of Belavi Folding Rocker
1 out of 5 stars (based on 3 reviews)
Belavi Folding rockers
Bought 2 rockers and 3 lounge chairs and while I was using 1 on the 4th of July broke the handles and my guest fell flat on the floor. I had one left that I decided to use due to the other issue thinking it was just a defective chair. Last week I sat on a chair when not rocking and the chair broke at the handles just the same I hit my tail bone and now I am quite upset and in pain.
Broke at the handles
Only 3 months old under weight limit and broken at handles
Broke apart in less than 2 months
I bought this along with the zero gravity lounger 2 months ago. It has been used maybe a dozen times since then, and it broke at the handles while my husband was sitting in it yesterday. Luckily he was not hurt. He weighs below the weight limit specified on the chair. Very disappointed! It was a comfortable chair.
Last update on 2023-09-28 / Affiliate links / Images from Amazon Product Advertising API