Aldi Portable Gas Fire Pit
If you do a lot of camping or just enjoy a quick and easy fire in the backyard the Belavi Portable Gas Fire Pit could be for you. This little gas fire pit is meant to pick up and go with you wherever you need it. These gas fire pits are great for camping, especially in areas that ban wood fires or don't allow transporting firewood.
Aldi's Portable Gas Fire pit runs off a standard 20 pound propane tank (not included). The matching lid can lock in place to be used as a carrying handle for easy transport. The included 10 foot gas hose means you don't need to have the propane tank sitting right next to you while you enjoy the fire.
This Aldi Find will be available June 21st, 2023 for $69.99 (scroll down to see if that is a good deal). That is $10 less than last year's model.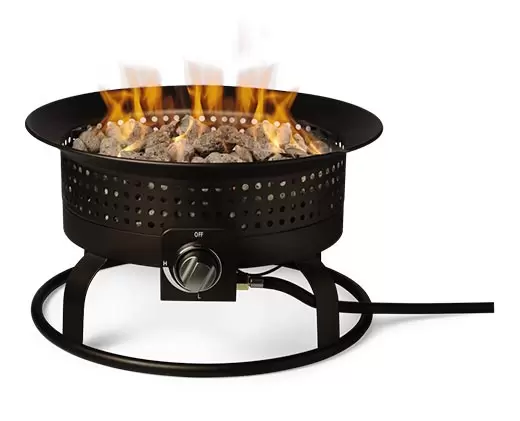 If you are trying to find a patio gas fire pit check out the Belavi Gas Fire Pit. If you want a wood burning fire pit that is a bit more portable you can check out Aldi's Smokeless Fire Pit.
Belavi Portable Gas Fire Pit
Price: $69.99 (2023 prices may vary)
Available: 6/21/2023 (Previously available 7/13/2022)
Control panel with piezo ignition and flame adjustment knob
The included matching lid locks in place to use as a carrying handle
Powerful 54,000 BTU heat output
Delivers a clean, smokeless fire
Uses a standard 20-lb. propane gas tank (not included) like you would use for a gas grill
Durable steel construction
Includes: 10 foot gas hose, propane tank holder, and pumice stones
Dimensions: 18.5 inches x 18.5 inches x 14.65 inches
Aldi Product Code: 704421
Is It A Good Deal?
At first glance I thought $80 for something like this seemed like an OK price but probably not a good deal. But looking at the competition online I think the Aldi Portable Gas Fire Pit is a pretty good deal. Similar sized portable gas fire pits are selling for $100-$150 online. The closest in size and features to the Belavi Portable Gas Fire Pit is this Bond Manufacturing Portable Gas Fire Pit. It is has the same dimensions and similar locking lid design as the Aldi gas fire pit.
The advantage of the Bond Manufacturing version is it has a lot of good reviews so you know what to expect. You may be able to find a better deal at a local store since these items are fairly bulky to ship. And be sure to keep an eye out for end of season sales and clearances!
Sale
Bestseller No. 1
Flame King Smokeless Propane Fire Pit, 19-inch Portable Firebowl, 58K BTU with Self Igniter, Cover,…
PERFECT NO MESS CAMPFIRE: Forget about dirty ashes and expensive firewood and enjoy a clean and smokeless fire in your backyard, beach, or lake, tailgates, camping trips, and more
19-INCH PORTABLE FIRE PIT BOWL with a heat output of 58,000 BTUs; comes with a 10-ft hose with a regulator to easily connect with your standard BBQ propane tank
CONVENIENT & EASY TO SET-UP & TRANSPORT: Easy assembly, no tools required; comes with UV & weather resistant cover, fabric strap handle for easy and comfortable transport, and propane tank stabilizer…
Sale
Bestseller No. 2
Outland Living Portable Propane Fire Pit, 19-inch, 58,000 BTU Smokeless Gas Firebowl | Perfect for…
Perfect No-Mess Campfire: With our fire pit, say goodbye to dirty ash, expensive firewood, and bothersome smoke and enjoy a clean, realistic propane fire pit for outside. The perfect outdoor fireplace…
Compact and Easy to Transport: Travel-size fire pit is lightweight and portable. Easily set up in minutes with no tools required. All-weather fire bowl, outdoor fire pits delivers a clean and…
Beat the Campfire Ban: CSA approved fire pit is safe to use during most campfire bans. Always check with the current fire restrictions in your area. Spark-free propane campfire helps protect…
Bestseller No. 3
BLUU Deluxe Portable Propane Gas Fire Pit with Auto Ignition for Outdoor Camping- with Grill,…
Made for the Outdoors: BLUU Propane Fire Pit is designed for outdoor use and is lightweight & portable. This travel sized fire pit includes a foldable stand, Trachea Hook, carry rope, propane tank…
Perfect Campfire & Porcelain Grill: Enjoy a clean bonfire free of smoke and ash. We've included a rust-free grill for BBQ or toasting marshmallows. (NOTE: Avoid direct contact between food and…
Safety First: Our CSA approved fire pit is safe to use during most campfire bans. The BLUU outdoor fire pit is also equipped with an automatic shut off, which turns off the fire pit if flame is…
Belavi Portable Gas Fire Pit Reviews
5.0 out of 5 stars (based on 1 review)
Great little fire pit
I got my firepit last year and noticed it is identical to the Bond Signature 18.5-in W 54000-BTU Bronze Portable Steel Propane Gas Fire Pit sold at lowe's for 139.99. Great value and great portable unit.
Last update on 2023-12-01 / Affiliate links / Images from Amazon Product Advertising API