Outdoor Gas Fire Pit From Aldi
Aldi keeps bringing out more options for your deck or patio. Last time you could pick up a Belavi sectional and now you can get the Belavi Outdoor Gas Fire Pit beginning on 4/12/23 (previously available 5/18/22) as an Aldi Find. This gas fire pit from Aldi will sell for $149.99 and includes a lid, lava rocks, and protective cover.
This looks to be the same model as the 2022 Belavi Fire Pit which had mixed reviews as you can see below. Some people had issues getting it lit or it staying lit, while others loved their fire pit. I don't see any notable changes in the pictures or description but that doesn't mean it will be the exact same unit as last year.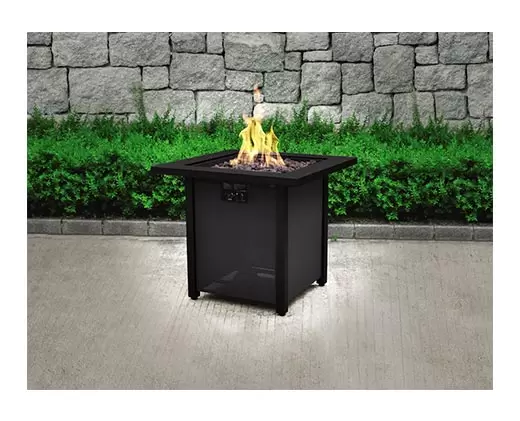 You will need to pick up a 20 pound propane tank if you don't have one (this is a standard propane tank you would use for a grill). This gas fire pit will keep you warm on those cool evenings but a lot of that heat is going to go straight up.
If you are more interested in staying warm than watching the fire I would take a look at the Belavi Propane Patio Heater that will be available at the same time. If you want a wood burning option there is the Smokeless Stainless Steel Fire Pit that is a decent looking Solo Stove Dupe, traditional mesh fire pit or the Pyramid Chiminea.
Belavi Gas Fire Pit Details
Price: $149.99 (2022- prices may vary)
Available: 4/12/23 (Previously available 5/18/22)
Dimensions 28″ x 28″ x 24″
Control panel with pulse ignition and adjustable flame
Powerful 50,000 BTU heat output gives a smokeless and clean fire
Includes: burner lid, lava rocks and protective pit cover
Durable steel tabletop and decorative sling fabric base panels
The included matching lid converts the unit into a side table
Fueled by a standard 20 pound propane tank (not included)
20 pound propane tank can be purchased at most retailers (standard grill tank)
Aldi Product Code: 52531
Is Aldi's Gas Fire Pit Table a Good Deal?
Looking at what is available at other stores and online it looks like the Belavi Fire Pit is priced fairly but is not an exceptional deal. I was able to find a similar fire pit on Amazon that has rattan sides instead of the fabric sides on the Belavi. Target also has a few affordable options including this one for just $149. Most fire pit tables at Home Depot and other similar stores looked to be $200+ but they will probably have sales at some point.
If you aren't in a rush and don't care if you get the Belavi or another brand you could try to wait it out and catch it on Aldi's clearance. Big seasonal items like this generally get a reduced price fairly quickly, probably a small price reduction about 2-3 weeks after it is first available and if it sticks around for a while it should get down to 50% off or more. If you miss out on it you will likely still be able to pick one up for a similar price online. You will also have that chance at Target and other retailers but probably not until the fall or even winter. Aldi doesn't wait long clearing out that Aldi Finds Aisle for new items to come in.
Sale
Bestseller No. 1
Four Seasons Courtyard Dual Heat 28 Inch Steel Square Gas Outdoor Backyard Tabletop Fire Pit with…
Gas fire pit table features 50,000 BTUs of heat with a simple push-and-turn ignition start-up, providing a convenient source of warmth during the colder months
Convenient hinged door discreetly hides a standard 20-pound propane tank, keeping your outdoor space clutter-free and maintaining the aesthetic appeal of your patio
Comes with sophisticated lava rocks that enhance the look of your firepit table, adding a touch of charm to your outdoor gatherings while keeping you warm
Sale
Bestseller No. 2
Ciays Propane Fire Pits 32 Inch Outdoor Gas Fire Pit, 50,000 BTU Steel Fire Table with Lid and Lava…
Wanting a Great Patio Party?: Having a patio party is different from an indoor party. Outdoors you need to consider the coldness and a center of attention to gather everyone. A propane fire pit table…
Feel the Heat(50,000 BTU): Ciays gas fire pit can reach up to 50,000 BTU to provide heat to whoever is around your fire table. We won't leave you or your friends out in the cold! Keeping your food…
Safe & Easy to Use!: Safety first! Each fire pit table for outside has been tested before reaching our users, just because it's the right thing to do! Our outdoor propane fire pit table is easy to…
Sale
Bestseller No. 3
Legacy Heating 28in Propane Fire Pit Table, 50000BTU Outdoor Gas Fire Pit, 2 in 1 Firepit Table w/…
Embrace the Warmth: The 28″ x 28″ x 24″ propane fire pit reaches up to 50,000 BTU of heat to create a comfortable and relaxing atmosphere for your friends and family. Also provides extra heat to…
2 in 1 Outdoor Fire Table: Legacy Heating 28″ fire table with burner lid and lava rock can be used in multiple ways. Remove the lid and turn the ignition on, you would get a perfect fire pit table…
Auto Ignition & Flexible Flame Control: Ignition and flame control can be adjusted in simple press and turn the knob. The piezoelectric ignition on this propane fire pit table makes it easier to…
Belavi Outdoor Gas Fire Pit Reviews
2.2 out of 5 stars (based on 9 reviews)
Another Option
Sale
Bestseller No. 1
Four Seasons Courtyard Dual Heat 28 Inch Steel Square Gas Outdoor Backyard Tabletop Fire Pit with…
Gas fire pit table features 50,000 BTUs of heat with a simple push-and-turn ignition start-up, providing a convenient source of warmth during the colder months
Convenient hinged door discreetly hides a standard 20-pound propane tank, keeping your outdoor space clutter-free and maintaining the aesthetic appeal of your patio
Comes with sophisticated lava rocks that enhance the look of your firepit table, adding a touch of charm to your outdoor gatherings while keeping you warm
Last update on 2023-11-30 / Affiliate links / Images from Amazon Product Advertising API