Aldi's Solo Stove Dupe
Aldi is bringing out the Belavi Stainless Steel Portable Fire Pit just in time for summer bonfires. It will be released the week of 6/1/2022 as an Aldi Find. At first glance the Aldi fire pit looks a lot like the Solo Stove with a few small differences. These portable fire pits are are meant to have a few advantages over a traditional fire pit or stove. Aldi also has a Wood Burning Chiminea, a gas fire pit, or a patio heater if you need something else to stay warm outside.
The primary advantage of these types of fire pits is reduced smoke from the fire. Aldi claims "up to 70% less smoke" in the Aldi Finds Sneak Peak ad where it is featured. They do this by improving airflow and increasing the efficiency of the burning wood. These stoves generally have vents around the edge to increase airflow and burn up the small particles that would normally end up as smoke.
The next advantage is being portable. This fire pit comes with a carry case and small and light enough to carry from place to place. This is perfect for camping or RVs so you know you have a firepit wherever you go. Finally this style of firepit is raised keeping the bottom cool enough to use on most surfaces.
Belavi Stainless Steel Portable Fire Pit
Price: $199.99 (2022, prices may vary)
Stainless steel construction gives durability and a clean look
Cleanair smoke free technology™ reduces up to 70% of smoke
Raised design allows for use on most surfaces
Includes convenient carry bag and portable size
Dimensions: 19.5″ x 19.5″ x 14.05″
Aldi Product Code: 706517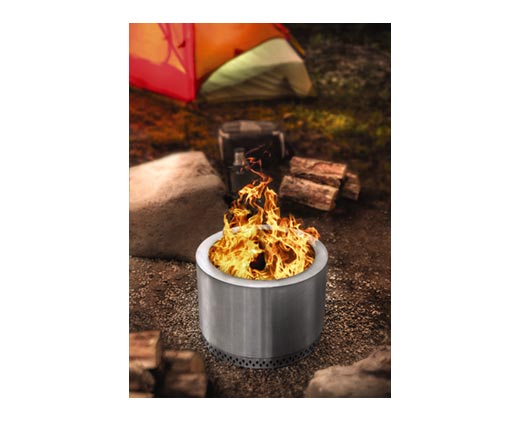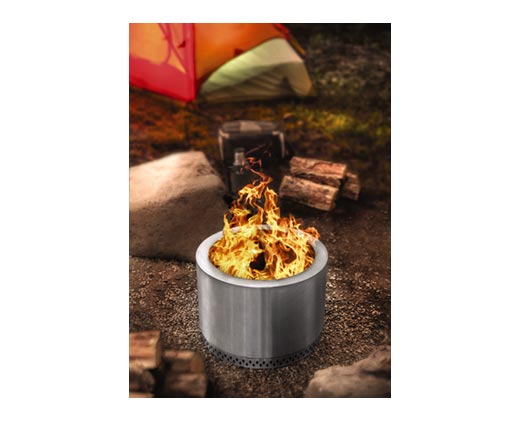 Solo Stove VS Belavi Stainless Steel Fire Pit
Solo Stove popularized this type of portable fire pit with a Kickstarter campaign and now they are widely sold and they now offer multiple sizes and accessories. The Belavi Portable Fire Pit is Aldi's take on this style of fire pit and comes in just one size and includes a carry case but otherwise has no accessories. Aldi's version is comparable to the Solo Bonfire, the best selling version of the Solo Stove. Both the Solo Bonfire and Belavi Fire Pit have a 19.5 inch diameter and about a 14 inch height. They also both include a bag to carry your portable fire pit. The Solo Bonfire is around $260 right now on Amazon and also goes on sale from other retailers and directly from Solo Stove.
Form just looking at the pictures and descriptions online it would seem that the Belavi Portable Fire Pit and the Solo Bonfire are very similar at the base level. The Solo Bonfire is going to be more expensive than the Belavi but it has the advantage of being on the market for a while and having a pretty good reputation for quality.
The unknown for the Belavi Stove is whether or not the Solo accessories will work with the Belavi. I don't expect Aldi to come out with accessories later on so the main chance to add any will be from solo. They are very similar so the may work but we won't know upfront. So if you want to cook on you fire pit or get a lid, ember shield or heat deflector, it may be the safer option to get the Solo Bonfire.
Also if you are looking for a larger or smaller fire pit you will have to with a Solo Stove or other brand besides the Belavi since Aldi only offers one size.
Other Solo Stove Alternatives?
If you don't want to go with Aldi's Solo Stove Dupe but still don't want to shell out for the name brand Solo Stove there are multiple options on Amazon but the best deal I found looks to be from costco. Costco offers the HotShot 22 inch wood burning fire pit for $329 but this is a bundle that includes an ember screen, cover, and grill. That type of bundle would cost at least a hundred dollars more from Solo Stove and the costco version is a few inches bigger than the Solo Bonfire.
Aldi Belavi Stainless Steel Fire Pit Reviews
Have you tried out Aldi's portable wood burning fire pit? Let us know what you think!
5 out of 5 stars (based on 3 reviews)
Fantastic fire pit
We have a beautiful hammered copper fire pit. The smoke it out off was ridiculous. Enter the Belavi. It's fantastic. We did a side by side comparison and there is no comparison. Our hammered copper pit will now become a planter or something else. The Belavi is the only fire pit we will ever need. Love love love it.
smokless
Started up real easy was very smokeless and cool on the bottom did not burn the grass
Awesome
This is wonderful. Easy to use and after the fire gets started it's pretty much smoke free. The base protects the grass from being burned.