Organic Vegan Dumplings From Aldi
The Earth Grown Vegan Dumplings will be available as an Aldi Find a few times throughout the year. They will generally have two flavors: Thai Basil Dumplings and Tofu Vegetable Dumplings.
These dumplings should be found in the refrigerated/deli section in your store instead of the freezer like most of Aldi's other dumpling options.
Update July 2022: New Korean BBQ Flavor
I came across a new flavor of Aldi's vegan dumplings when picking up groceries today (7/20/22). They now have Korean BBQ flavored dumplings. I was looking for a quick lunch and these fit the bill so I picked up a couple packs to try out. Check the review below to see my thoughts.
Earth Grown Vegan Dumpling Details
Price: $3.99 (2022-prices may vary)
Flavors (2022): Thai Basil and Tofu Vegetable early in the year, Korean BBQ in stores in July
Size: 9oz (255g)
Certified Vegan
USDA Organic
Fresh Dumpling (refrigerated not frozen)
Aldi Product Code: 701661
Earth Grown Thai Basil Dumplings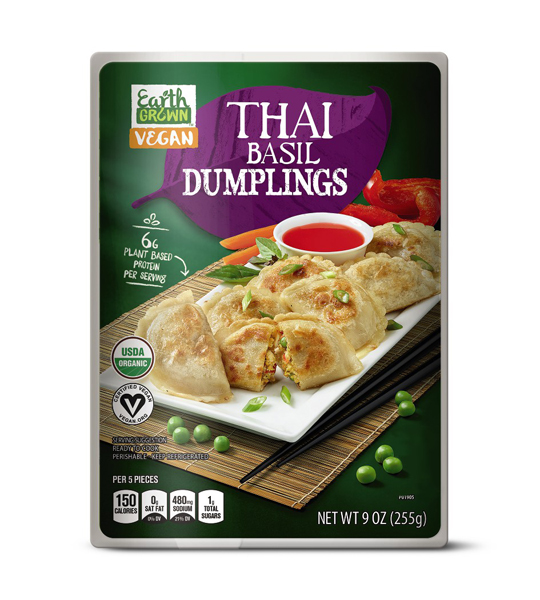 Aldi Thai Basil Dumplings Nutrition Snapshot
Serving Size: 5 Pieces
Calories: 150 cal
Saturated Fat: 0g
Sodium: 480mg
Total Sugars: 1g
Earth Grown Tofu and Vegetable Dumplings
Aldi Tofu and Vegetable Dumpling Nutrition Snapshot
Serving Size: 5 Pieces
Calories: 170 cal
Saturated Fat: 0g
Sodium: 600mg
Total Sugars 1g
Earth Grown Korean BBQ Vegan Dumpling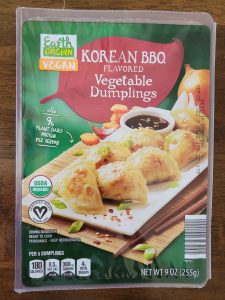 Aldi Korean BBQ Dumpling Nutrition Snapshot
Serving Size: 5 Pieces
Calories: 180 cal
Saturated Fat: 0.5g
Sodium: 390mg
Total Sugars 4g
Are the Earth Grown Dumplings from Aldi Good?
I tried both of these flavors and really liked them both. They are not just a vegan alternative to regular dumplings they are something I buy even though I am not vegan. I prefered the Thai Basil dumpling over the tofu and vegetable but they were both pretty good.
The best part about these dumplings is the dumpling wrapper, it is on the thicker side but when pan fried it gets light and crispy with a golden brown color. The wrapper is really what makes these good, the fillings are decent but not something special.
I'd recommend eating them with fresh thai basil or other herbs if you have them around and dipping in a mix of soy sauce and sriracha. These would be great as an appetizer for a few people, a meal for two with some rice and veggies on the side, or a meal for one buy themselves.
I recommend pan frying with just a enough oil to give them a crisp golden brown exterior. Air frying could work well too but I haven't tried yet.
Aldi Korean BBQ Dumpling Taste Test
These have what seems to be the same wrapper as the other flavors which is a good thing. I fried them up in the pan with a little oil for a quick lunch. As you can see in the photo they browned up great again even though I hit them with a bit too much heat. When I have cooked them in the past and paid attention I had very even golden brown dumplings.
These ended up a bit darker (my fault) but still tasted great. The filling was good, but I can't say it is outstanding. It has been a while since I have had Korean BBQ so I don't have a good comparison. It had a nice flavor that reminds me of Bulgogi sauce but it has been too long since I have had it to give a real opinion. All I know is they were tasty and went great with a side of white rice and Kimchi.
One package served with rice and a vegetable side would be a good lunch for two adults. If I was only eating dumplings I would probably eat the whole package as a meal.
Reviews of Earth Grown Vegan Dumplings
5.0 out of 5 stars (based on 3 reviews)
Delicious dumplings!
Made the Korean bbq flavor with veggie fried rice for myself, my husband and 6 year old granddaughter. They were outstanding, They smelled so good right out of the package, fried up in minutes, and disappeared almost as fast. I will definitely buy again
Disappearing Dumplings
I did not just eat the thai basil dumplings….I inhaled them! Lightly toasted in a pan and dipped in sriracha mayo and soy sauce, they made the perfect meal in less than 10 minutes. Except the part where I had to apologize to my family who inquired about the amazing aroma only to find an empty pan. I don't think they believed my tale of the Infamous Disappearing Dumplings!
Good even if you're not vegan
These have a great wrapper that crisps up with a quick pan fry. The filling is decent but not anything special but I was surprised at how good the dumpling wrapper was. These are the only non-frozen dumplings I have seen at Aldi and I hope they bring out more.