Easy Home Color Changing Humidifier
Another Aldi Find deal for the week of 3/23/2022; the Easy Home LED Ultrasonic Humidifier. This cool mist humidifier gives you the option to change the tank color with the built in LED light. There is also a version that does not change colors that includes a white LED light in a clear grey water tank. If you are looking for a nightlight and humidifier combo this looks like it could be a good option.
Price: $17.99 (2022- prices may vary)
Ultrasonic Cool Mist Humidifier with LED light
White LED Light with White Housing and Gray Tank or Color Changing LED Light with White Housing and Milky Tank
Ultrasonic transducer atomizes water to produce refreshing, visible cool mist to increase the humidity in a room.
Compatible with essential oils for aromatherapy
Up to 16 hours operating time per tank
Built-in White LED Light or Color Changing LED Mood Light with 7-color auto-cycle
Variable moisture setting
Auto shut-off when water tank is empty
Silver Ion Filter
Water tank capacity: 43 oz (1.27L).
Dimensions 9.5″ x 6.5″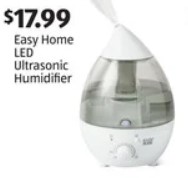 How does Aldi's Humidifier compare?
The Easy Home Cool Mist Humidifier is priced very competitively at $17.99. Most similar cool mist humidifiers are selling for at least $30 on Amazon. I recently purchased this Vick's Cool Mist Humidifier and it is now selling for around $65 on Amazon (looks like you can find it cheaper elsewhere- I think I got it for around $50). The Vick's works well but is a bit of a pain to refill and to clean. If you want to get one with similar features as the Aldi humidifier it looks like you would spend at least $30. This well reviewed humidifier is around $30 and has a color changing LED like the Aldi version plus it fills from the top which I would prefer. It is also a bit bigger so it would be able to run longer assuming they both put out the same amount of moisture.
Aldi's LED Humidifier is on the smaller size compared to most on Amazon. That could be a bonus if you need something with a small footprint but it does explain a bit of the price difference.
Reviews of Easy Home LED Ultrasonic Humidifier
2.3 out of 5 stars (based on 3 reviews)
Not good it lasted for a while and I really loved it but then it cracked and all the water went out of it
I bought one at Aldi's easy home humidifier loved it it had colors on it and it sent out a nice mist and I also bought the aroma oil that goes with it I was very happy with it and then I found out it cracked in the water went everywhere now I'm not happy with it but then again like someone else said made in China somebody should stand behind this either Aldi'sthese or where they got them from with all the money we spend there and a lot of other people do they should return our $17 and do right by us customers I like everything at all these but now I don't want to trust a lot of their products because of this
Broke after one month of using it
Horrible. I almost got electrocuted taking the plug out and it sparked and totally broke! I need to bring this back. But I don't see it in aldi anymore! Now I need to look for the reciept. This is not worth the savings. Piece of crap. Made in China. Of course!
Aldi's EASY HOME Humidifier
It's a great 1 gal humidifier that's also attractive andnsells at a great price. I'm very happy with it.