An Easy Weeknight Meal From Aldi
If you need a quick, easy weeknight meal without a bunch pots and pans to clean up I have you covered. What is even better is you can keep all these ingredients on hand in your panty or freezer so you can always have an easy go-to meal when you don't know what to cook.
Aldi Pasta
Aldi has a lot of options when it comes to pasta and most of them can be swapped in or out in these recipes. You will just need to adjust the cooking time and the amount on pasta/water.
If you are looking for a premium experience I highly recommend the Priano Bronze Cut Pasta from Aldi. It is a bit more expensive that Aldi's other noodles but they are very high quality for the price.
Aldi also carries organic pasta, gluten free pasta, soybean pasta, chickpea pasta, along with a variety of standard pasta noodles. Pick a pasta variety that you like and adjust the recipe to fit.
Aldi Pasta Sauces
Aldi's jarred pasta sauces are really good in my opinion especially for the price. Even the organic tomato sauces are generally less than brands I would buy at other grocery stores. I like the Simply Nature pasta sauces and the Specially Selected.
With any jarred sauces I like to add a little more flavor with some fresh garlic sauteed in olive oil. Sometimes I will throw in some additional fresh or dried herbs as well. And a little crushed red pepper flakes or fresh cracked black pepper help amp it up a little as well.
Proteins, Toppings, and Add-Ins
There are a ton of options to add to your pasta but I will list out some of my favorites to give you some ideas to make it your own.
Earth Grown Meatless Meatballs (great to keep in the freezer even if you eat meat!)
Sausage or brats
Shrimp
Spinach
Ground beef or Ground Turkey
Cured Meats: prosciutto, bacon, salami, or some of the other specialty meats
Chicken: left over chicken, Red Bag Chicken, rotisserie chicken
Your favorite cheese
Vegan/Vegetarian Meatball Pasta Recipe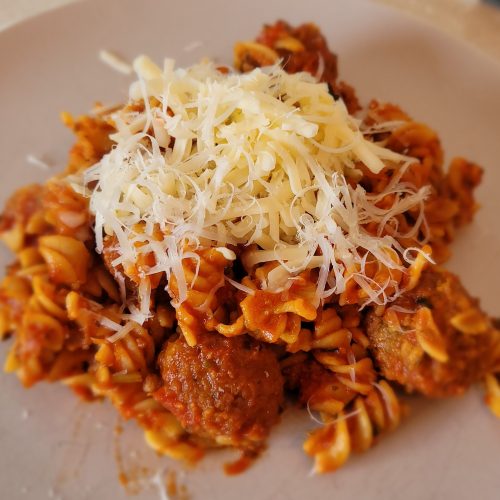 One Pot Chickpea Pasta and Meatless Meatballs
This recipe features meatless meatballs made with a combination of plant-based proteins and flavorful seasonings. The "meatless meatballs" are tender and satisfying, while the chickpea pasta adds a boost of plant-based protein. The tomato sauce adds a delicious and classic flavor. This is a hearty and flavorful plant-based meal that is sure to please vegans and non-vegans alike.
Ingredients
1

Package

Simply Nature Chickpea Rotini (12 oz)

Can replace with you favorite pasta

1

Jar

Simple Nature Tomato & Basil Pasta Sauce

Can swap with another jarred sauce or homemade

15

Meatballs

Earth Grown Meatless Meatballs

Can swap with regular meatballs (precooked)

1

Tbsp

Olive Oil

(optional)

3

Cloves

Fresh Garlic (mince or use a garlic press)

(optional)
Instructions
In a large pot boil about 5 cups water (will be drained later), add salt if you want

Cook chickpea pasta about 5 minutes until al dente. Follow package instructions if using a different pasta. 

Reserve 1 cup pasta water. Strain pasta, rinse with cold water if using chickpea pasta or if you are making pasta ahead of time and set aside. If using regular pasta do not rinse, you can drizzle some olive oil on it to prevent sticking.

(Optional step): In the same pan over low-medium heat add olive oil and garlic. Cook until fragrant and then add meatballs and cook for about 3 minutes.

Over low to medium heat add the pasta sauce to the same pan. If you skipped step 4 add your meatballs now.

Cook meatless meatballs in the sauce for 10-15 minutes until cooked through and hot in the center.

If the sauce starts to get too thick add some of the reserved pasta water a little at a time to thin it out.

Once the meatballs are finished cooking add the pasta back to the pot and stir to incorporate. You can also put the pasta on a plate and top with sauce if you prefer.

You can add any optional toppings now. Some good options are cheese, vegan cheese, red pepper flakes, fresh basil, or black pepper. 
Notes
This is just a general guideline for making this meal. Each ingredient can be swapped out with what you like or what you have in hand. You can keep it vegan, vegetarian, or swap out the meatless meatballs to regular meatballs. You make it fully gluten free if you swap out the meatless meatballs for a gluten free option. 
Aldi One Pot Pasta Reviews
0 out of 5 stars (based on 0 reviews)
There are no reviews yet. Be the first one to write one.