Aldi Folding Workbench
The Workzone Foldable workbench will be available at Aldi the week of November 16th, 2022 for $24.99. This Aldi Find is perfect for those home improvement projects and larger crafts. Great for when you need some extra table space or clamps.
The WORKZONE work bench is lightweight and folds up flat so it is easy to store away when your done. Even though it is lightweight and folds for storage it can still hold up to 330 pounds. It looks like it even has some handy tool slots as well.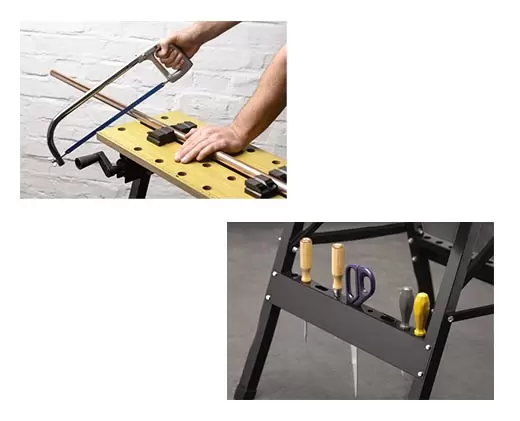 If you haven't used this type of work bench with clamps before you are missing out. It is a super versatile tool that makes a lot of jobs much easier.
I own a Black and Decker WorkMate 425 that has a similar design with a few extra features and it gets a lot of use anytime I am doing projects. They also make the WorkMate 125 which looks like it has similar features as the Aldi Workbench in a similar price range.
WORKZONE Folding Workbench Details
Price: $24.99 (2022, prices may vary)
Available: 11/16/2022
Compact lightweight design
Folds flat for easy storage
Includes 4 detachable plastic clamps/bench dogs
330 pound capacity
Assembled dimensions (without clamps): 24.8 inches x 23.8 inches x 29.9 inches
Aldi Product Code: 814893
Is It A Good Deal?
At just under $25 this looks like a fair price for what you get, but I would check out the Black and Decker WorkMate 125. It will likely cost just a little bit more but it is a product that has been around a long time and has great reviews on Amazon.
If you have a Harbor Freight near you you could check out their version for just $20. The reviews aren't as good on that model but it is the cheapest I found and still worth looking at.
Workzone Foldable Workbench Reviews
2.7 out of 5 stars (based on 3 reviews)
Broken clamp
Opened box. Got it all together and got to the last clamp and it's broken…..Not to happy about it. I have never bought anything like this at Aldi, not sure if I would again.
Great portable workbench!
I received this workbench as a Christmas gift. The assembly instructions were detailed, clear, and complete, and it assembled in less than an hour. The workbench, when properly assembled with all the bolts tight, is sturdy and stable. I've used it for several projects and it has exceeded my expectations. The included plastic clamps are exactly the right dimensions to hold a 2 x 6 or metal conduit securely while cutting or drilling. The workbench is small enough and light enough to be portable for projects in any room of the house, or outside as well. Highly recommended!
Where are the assembly instructions?
It came with no assembly instructions