Aldi Faux Granite Pans
Aldi will be carrying the Crofton Faux Granite fry pans and saucepan with lid starting the week of November 16th, 2022. You will be able to choose from a 12 inch fry pan, a 3-Qt saucepan, or a set of 8 and 10 inch fry pans for just $16.99.
Like all Aldi Finds items these will be available a short time. Usually they are only available until they sell out of the initial stock.
These pans are made with forged aluminum, meaning they should hold up well. Unlike standard non-stick pans the coating on these does not use PTFE or PFOA. Aldi does not list that these are compatible with induction cooktops and they are made from aluminum so I would assume they will not work on induction cooktops.
Aldi does not give details on the exact type of coating used for these pans but similar granite/stone pans claim a "stone derived" non-stick coating. These type of pans seem to have good reviews on Amazon but I have not used any personally. I am moving towards more cast iron and carbon steel pans myself.
The handle on these pans looks to be plastic or bakelite which makes me think they are not oven safe. Aldi does not say whether or not these are oven safe so I would assume they are not unless the packaging says otherwise.
Check out more Crofton Pots and Pans from Aldi here!
Crofton Faux Granite Non-stick Pans
Price: $16.99
Available: 11/12/2022
8″/10″ Fry Pan Set, 3-Quart Saucepan with Lid or 12″ Fry Pan
Forged aluminum for long-lasting durability
Comfort grip handle provides heat resistance
Made without PTFE and PFOA
Compatible stovetops: gas, electric and glass ceramic
Aldi Product Code: 705163
Is It A Good Deal?
At $16.99 each Aldi's Granite/stone pots and pans look like a decent deal. You could buy one of each for $50.97 and have a set of 3 frying pans and on 3 qt sauce pan with a lid. I think the set of two frying pans (8 and 10 inch) is the best deal overall.
There are quite a few options online for "granite" or "stone" coated pans. Two of the more popular brands look to be CAROTE and Granite Stone. They will both be a bit more expensive than the crofton pans but they are not by that much. You may find a good sale that will keep the price comparable.
Overall I think the Crofton Pans are worth a try at this price point but if you want to go with an option that has been around longer and has good reviews I would check out this Granite Stone set of two frying pans (10 in and 11.5 in) or this Carote Omelet Pan.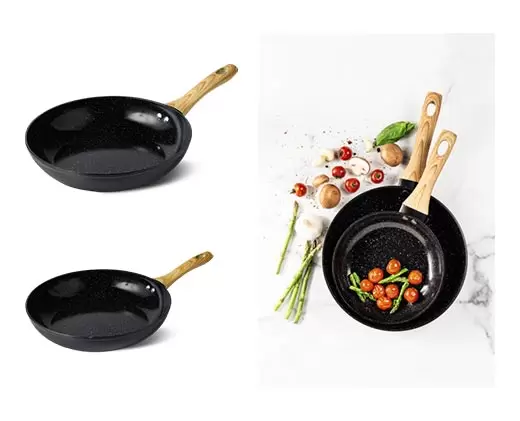 Crofton Faux Granite/Stone Pan Reviews
5.0 out of 5 stars (based on 2 reviews)
Add-on to my previous review 3/26/23
In my previous review, I forgot to add that I like the handles on the pot(saucepan) and the lid. They are easy to hold and the glass lid has a small stainless steel-ringed vent hole that does a good job of releasing the pressure. They look good too. And they are easy to wash and dry quickly. 3/26/23 Bob
The easiest to clean up pan I have ever owned.
I had just moved and left my hammered-copper-look designed cookware behind (very hard to clean up junk) and needed a pot for chili and pasta sauce. I saw the Crofton Faux Granite Non-stick 3-quart Saucepan for $16.99 and decided to buy YET ANOTHER supposedly non-stick item. Sooooo glad I did! When I make sauces now, they just pour from the pot almost like water. { ***note to Crofton— Hey Crofton; If you decide to sell the matching pieces, please let me know, Also please sell lids with ALL items} Yes ! This saucepan rates 5 stars. Thank you Crofton and Thank you Aldi Bob