Aldi Electric Wine Opener and Preserver
This week's Aldi Finds has a great looking Electric Wine Opener set from Ambiano. It includes an electric wine opener and wine preserver along with an aerating spout, two bottle stoppers, a foil cutter, and storage base. This is a pretty nice looking set for just under $20 and includes a lot. It comes in black with either gold or silver accents.
The online listing doesn't mention if these are battery operated or rechargeable but for the price I would expect this is battery operated. I was surprised by the Ambiano Electric Pepper Mill that Aldi Finds items often come with batteries when needed but we will see if this one does.
It looks like it will probably match my pepper mill too, but I use a waiter's corkscrew to open my bottles and rarely need to preserve. If you are looking to build out the rest of your bar keep a lookout for the Crofton Barware in Aldi Finds.
Ambiano Electric Wine Opener Set Details
Price: $19.99 per set
Available: 12/14/2022
Colors: Black with Gold or Black With Silver
7-piece set
Electric corkscrew and wine preserver
Two wine bottle stoppers, one aerating pour spout, foil cutter and storage base
Open, serve and preserve all with one set
Storage base to store and display your set.
Perfect for opening, serving, and preserving your Winking Owl Wine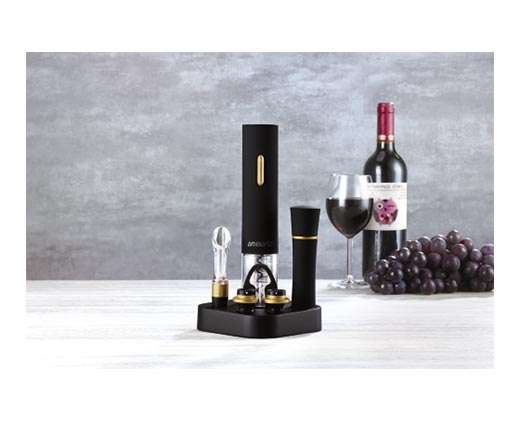 Aldi Electric Wine Opener and Preserver vs the competition
From the looks of things Aldi's wine opener is a great deal and even looks great. I'd want to find out if they are rechargeable or if they need batteries to really compare. Some competitors are rechargeable and charge from the base station which would make it so you know it will be ready to go when you need it.
The sets with base station chargers tend to be more expensive. This one by Ivation is listed for quite a bit more on Amazon. Ones that require batteries (usually not included) are similar price to the Ambiano.
I think the Aldi wine opener is better looking than most options in the same price range. Overall Aldi's Wine Opener Set looks like a good deal if it is battery operated. It's great deal if it is rechargeable.
More Aldi Wine, Beer, and Alcohol Reviews: Red Wine –White Wine – Beer – All Alcohol – Winking Owl
Ambiano Electric Wine Set Reviews
1.0 out of 5 stars (based on 1 review)
Terrible
It's terrible. Weak AF. 10/10 does not uncork a bottle
Last update on 2023-12-01 / Affiliate links / Images from Amazon Product Advertising API