Aldi Espresso Machine
Aldi will have the Ambiano Single-Serve Espresso Machine available the week of December 12th, 2022. Just in time to give you a little extra pep in your step for the holidays. It will be selling for $79.99 as an Aldi Find.
Aldi is a little light on the details for this Ambiano Espresso Maker but what we do know is it comes in black or navy and will brew a single serving of either espresso (1.35 oz) or lungo (3.38 oz). Lungo is italian for long and a espresso lungo is brewed like an espresso but with more water, and over a longer period of time.
This espresso machine comes with a removable 1 liter tank which makes it easy to fill. A full tank should last a while since the brews are fairly small. An espresso from this machine is about 40 mL which means you could get up to 25 espressos per tank. And the larger espresso lungo is about 100mL, so the tank could make up to 10 lungos before a refill.
What We Don't Know
Aldi does not list some potentially important details about the Ambiano Single-Serve Espresso Machine. First and most importantly is whether this is a traditional espresso machine or a pod machine like the Nespresso.
Aldi did sell a very similar looking espresso machine earlier this year that I believe is the same or at least similar to this one. That machine apparently uses the original line of Nespresso pods (not the vertuo) and I expect this one will as well.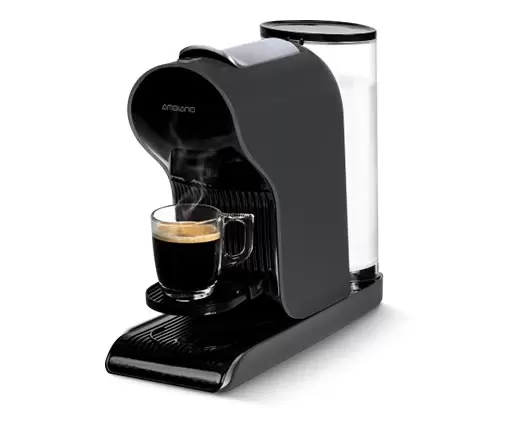 Here is a good reddit thread and review of that version of the Ambiano Single Serve Espresso Machine. According to users on there it works pretty well and has a storage compartment where the used pods are dumped so you don't have to empty it everytime.
I expect it is at least very similar if not the same model but I can't be sure at this point. Many people were able to pick this up at a deep discount on clearance. If you were lucky enough to have picked up the double wall espresso cups they would go perfect with this machine.
What Else Do I Need To Use It?
I am assuming this unit uses Original Style Nespresso Pods but check the packaging and instructions for full details. If that is the case you will need some Original Nespresso Pods, a reusable capsule if you want to use your own coffee grounds, and a milk frother or steamer if you don't want straight espresso.
Bestseller No. 1
Bestseller No. 2
Bestseller No. 3
Ambiano Espresso Machine Details
Price: $79.99 (2022, prices may vary)
Available: 12/7/2022
Color options: Black or Navy
Brews one of two Preset sizes: espresso (1.35 oz, 40 mL) or lungo (3.38 oz, 100mL)
One liter, removable water tank for easy refills
Aldi Product Code: 706100
Is It A Good Deal?
I am going to assume that the Ambiano Single Serve Espresso Machine uses Nespresso pods instead of being a traditional espresso maker using ground coffee. Nespresso machines tend to cost over $100 when not on sale.
You can find other alternative brands that also are compatible with the nespresso pods a bit cheaper. The Mixpresso machine looks like a good alternative with good reviews. It is in a similar price range as the Ambiano.
If you are looking for a Nespresso machine you should at least consider the Ambiano Single Serve Espresso machine at regular price but keep an eye out for it on clearance!
Sale
Bestseller No. 1
Nespresso VertuoPlus Coffee and Espresso Machine by De'Longhi, Cherry Red
VERSATILE AUTOMATIC COFFEE MAKER: VertuoPlus makes both coffee and espresso in a variety of sizes: 5oz and 7.77 o coffees, and single and double espresso. Designed for use with Nespresso Vertuo…
SMART COFFEE MAKER: Brew the perfect single serve Coffee or Espresso drink time after time, thanks to Nespresso's Centrifusion technology using barcodes to deliver the best in cup results including…
SINGLE SERVE COFFEE MACHINE: Create barista grade brewed single serve Coffee or Espresso cups at the touch of a single button; Designed for use with Nespresso Vertuo capsules only
Bestseller No. 2
Mixpresso Espresso Machine for Nespresso Compatible Capsule, Single Serve Coffee Maker Programmable…
☕ THE/BARISTA-APPROVED ITALIAN CAPSULE COFFEE MACHINE: Featuring a very high Italian-made 19 BAR pressure pump? The Mixpresso Pro Nespresso machine is nothing like similar, poorly designed coffee…
☕ COMPATIBLE WITH ORIGINALLINE NESPRESSO CAPSULES: Designed for use with our brand espresso pods but also compatible with the Original line Nespresso capsules, our Capsule Coffee Maker is equipped…
☕ 100% HASSLE-FREE CLEAN-UP: The capsule container, the drip tray, and the 0.8 liters water tank are easily removable to facilitate quick and simple cleaning. The Mixpresso Expresso Machine is also…
Sale
Bestseller No. 3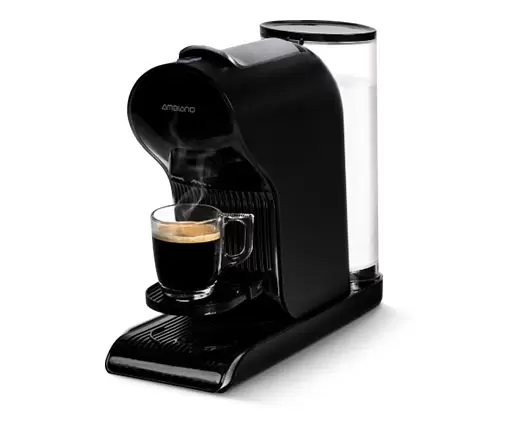 Ambiano Single Serve Espresso Maker Reviews
2.5 out of 5 stars (based on 2 reviews)
No. I Cafilas does Not work in the Aldi single serve
Bought the reusable ICafilas capsule and it obviously will not work. The machine tries to puncture it which is not what is intended. I didn't want to break the machine after getting a good deal on it so I'm going with oem nespresso capsules like Equine.
Wasted my money on that one.
First time espresso user
I am really pleased with the espresso from this machine, pumps at 19 bars for a good crema . It did not come with any original style pods, so I picked some up at my grocery store, did not have nespresso brand. The off brand did not sit right in the machine, I had to hold them in to close door properly. I will try to get some espresso brand and see if they work better.
Last update on %last_update% / Affiliate links / Images from Amazon Product Advertising API