Aldi Ceramic Pans
The Crofton Ceramic Pans come with a Ceramic non-stick coating called Fusion Ti which is not made with PTFE or PFOA and is lead and cadmium free. Aldi claims the Fusion Ti coating browns better and sears faster the standard non-stick coatings while maintaining superior release.
You will have the option of outfitting your whole kitchen with a matching set if you choose to buy all three options. You can get a set of 8 and 10 inch sauté pans or a single 12 inch fry pan or a 2.5 quart sauce pan.
Each of those three options cost just $14.99 so the total cost of buying one of each would be $44.97 (not including any taxes). That is $2 less per set compared to last year's version. You will be able to choose from a blue or green. They will be available the week of July 5th, 2023.
The pans have changed a bit from last year so keep that in mind when reading reviews or trying to complete your set! The handle design is different and the colors are different this year so they won't match last year's pans. If you like the colors of these pans you might want to take a look at the Blue/Purple Flatware Set available around the same time.
Aldi has been coming out with some nice looking pots and pans recently. There was the very popular Crofton Awesome Pan and the Crofton Enamel Stock Pot that I picked up for half price. This weeks Aldi Finds has a full set of stylish pans.
If you missed out on these you can check out all the Crofton Cookware here!
Crofton Non-stick Ceramic Pans Details
Options: 8″ and 10″ Nonstick Ceramic Sauté Pans (Set of 2), 12″ Nonstick Ceramic Fry Pan or 2.5-Quart Saucepan
Colors: Green or Blue
Made with aluminum to provide uniform heat distribution
Fusion Ti Non-stick surface offers superior release and best-in-class stain resistance
Fusion Ti browns and sears faster and better than conventional nonstick
Compatible Cooktops: gas, electric, halogen and glass ceramic stovetops
Two-year warranty Included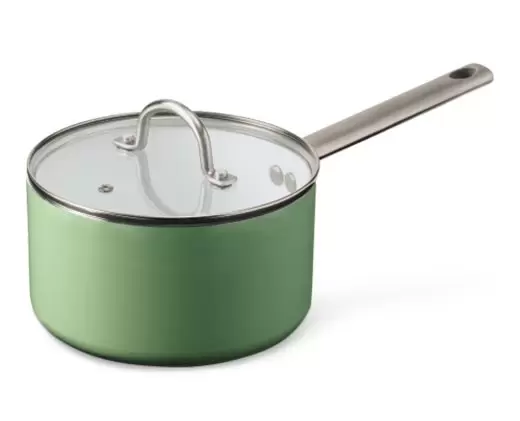 2022 Model Details
Price: $16.99 (2022, prices may vary)
Available: 8/3/2022
Options: 8 inch and 10 inch saute pans (set of 2), or 12 inch Fry Pan or 2.5-Quart Saucepan
Colors: Dark Navy or Light Green
Non-stick coating made with Fusion Ti
Made without PTFE and PFOA
Durable aluminum provides uniform heat distribution
Lead and cadmium free
Fusion Ti browns and sears faster and better than conventional nonstick coatings
Fusion Ti offers superior release and stain resistance
Compatible with gas, electric, halogen and glass ceramic stovetops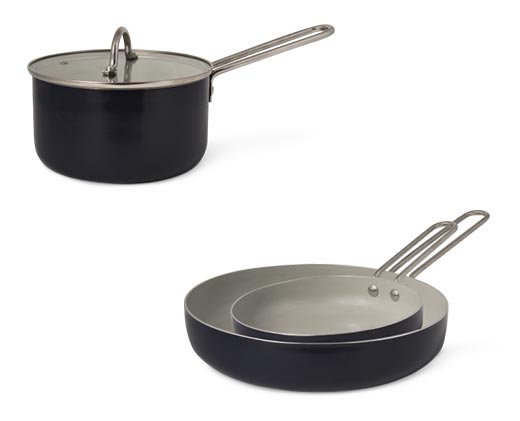 Are They A Good Deal?
Non-stick pans come in all kinds of shapes, sizes, colors, and coatings so it can be tough to say if one is a good deal compared to another. I have been trying to move away from most non-stick pans in favor of carbon steel and cast iron. Non-stick coating only seem to last a couple years for me and you have to be a bit more careful when using them. But the carbon steel pan I have has just been getting better with use. But for this we should try to compare to some popular non-stick pans.
To narrow it down I am just looking at ceramic non-stick pans. For most individual pans it looks like the price range is a bit more than Aldi's and range from $20 up to over $50. For the best deal you probably want to look at the bundles of multiple pans like the Amazon Basics 2-piece set or the GreenLife 3-piece set. Those two sets looked like the best deals right now but the Crofton Ceramic Pans look like a solid deal IF the quality of the non-stick is good.
Sale
Sale
CAROTE Nonstick Frying Pan Skillet,Non Stick Granite Fry Pan Egg Pan Omelet Pans, Stone Cookware…
Eco-friendly Classic Granite – Non-stick Granite Material,SGS & EUROFIN approved, PFOS,PFOA free, our cookware ensures your daily cooking is always safer and healthier.
Easy To Clean – Just wipe it with a paper towel or rinse it with water, Less Co2 emission and Less water wasted.
Suitable For All Stoves – Heats up quickly and evenly with extended bottom design. High magnetic conductive stainless steel base allows our nonstick cookware to work on all cooktops, including…
Crofton Ceramic Pan: Reviews
3.2 out of 5 stars (based on 5 reviews)
Last update on 2023-11-30 / Affiliate links / Images from Amazon Product Advertising API