Crofton Porcelain Enamel Stockpot
Aldi is bringing back a popular deal on the Crofton Enameled Steel Stockpot as an Aldi Find for the week of 10/12/2022 (previously available: 3/23/22). Aldi's Enameled Steel Stockpot is 12 quarts and comes in either white or teal and includes a matching lid.
Enameled steel is generally considered a high quality finish that will last for years and you will often pay a premium for it. Aldi is selling the Crofton pot for just $24.99. This is actually $2 cheaper than when it was available earlier this year.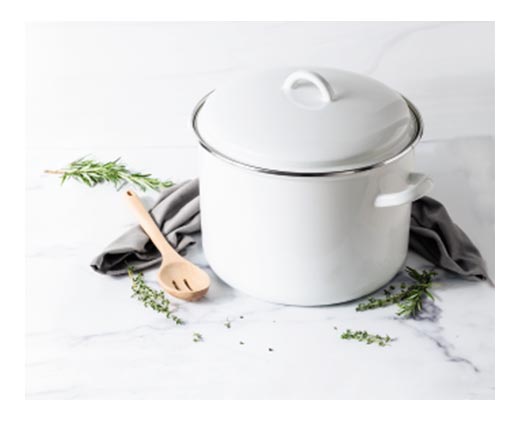 If Aldi's version is good quality you should get a great looking stock pot that will last a long time. I did pick one up on clearance earlier this year and it has worked well so far but I haven't used it a ton.
If you want some enameled cast iron pans that you go well with it check out these Crofton Enamel Cast Iron Pans.
Aldi 12-Qt Enamel Stockpot Details
Price: $24.99 (October 2022- prices may vary)
Capacity: 12 quarts (11.35 L)
White or Teal Gradient
Porcelain Enameled Steel ensures durability and good heat conduction
Sturdy handles allow for easy lifting
Oven safe: up to 500 ºF for easy stove to oven cooking
Compatible with basically any cooktop (gas, electric, glass ceramic, halogen and induction stovetops)
Is the Crofton Enameled Stockpot a good deal?
Seeing a pot priced at $24.99 in the Aldi Finds Aisle may seem a little steep at first glance but this looks to be a pretty solid deal. Similar options at Target and Bed Bath and Beyond seem to be selling for $40+ and Amazon prices seem similar for this style of pot.
The best options online right now you can pick up this Rachel Ray enamel steel pot pr this Ayesha Curry enamel stockpot, both with good reviews.
Or if you want to go name brand you can get an Le Creuset Stockpot for quite a bit more for the smaller 8 quart version. This is a much higher price for a smaller pot, but it is from a brand that is known for products that last generations.
Overall Aldi's pan looks like a great deal. As long as it is a decently heavy gage of steel along with a good quality enamel. If it is a very thin pot the heating won't be even and it may not last. Even if it was thin it would be priced similar to other thin walled stockpots.
But since it looks to be decent quality I think it is a good deal. It seems to have a higher oven safe rating than the competition (500F compared to 400-450). It also looks to have a stainless steel rim that should help prevent chipping of the porcelain.
Current Prices of the competing enamel stockpots.
Reviews of Crofton Porcelain Enamel Stockpot
3.5 out of 5 stars (based on 2 reviews)
Stains and chips
I've only used my pot a handful of times this summer and the inside has become badly stained and large portions of the enamel on the bottom have chipped away – and this is on a glass flat-top stove! I'm really disappointed in the quality of this pot.
Only used it a handful of times
I have had this pot for about 6 months and have used it a handful of times and it has worked well. It seems decently heavy for the price and the quality seems good. I will update this review if I run into any issues down the line.