Aldi Cold Brew Coffee System Make It Easy
Aldi's Crofton Cold Brew Coffee System is back just in time for the summer. Stay caffeinated and cool by making your own cold brew coffees at home. This Cold Brewing Pitcher will be available as an Aldi Find the week of 5/17/2023 for $9.99.
The system is a BPA free glass pitcher with a stainless steel coffee filter. Just add coffee grounds and water for four servings of cold brewed coffee. Unfortunately Aldi does not list the actual volume that this pitcher holds, just telling us 4 servings.
Try it out with some of Aldi's organic or fair trade coffee or you can buy specific cold brew coffee grounds at Aldi.
If you missed out on this or just prefer to have a quick iced coffee check out the Ambiano Iced Coffee Maker.
Crofton Cold Brew System Details
Price: $9.99 (2023, prices may vary)
Available: 5/17/2023
Available Colors: Black, Blue, Gray or Red
Easy pour spout
Wide, easy-to-clean opening
Silicone grip for easy handling
BPA free glass pitcher
Makes four servings of coffee
Glass pitcher with stainless steel filter
Aldi Product Code: 700718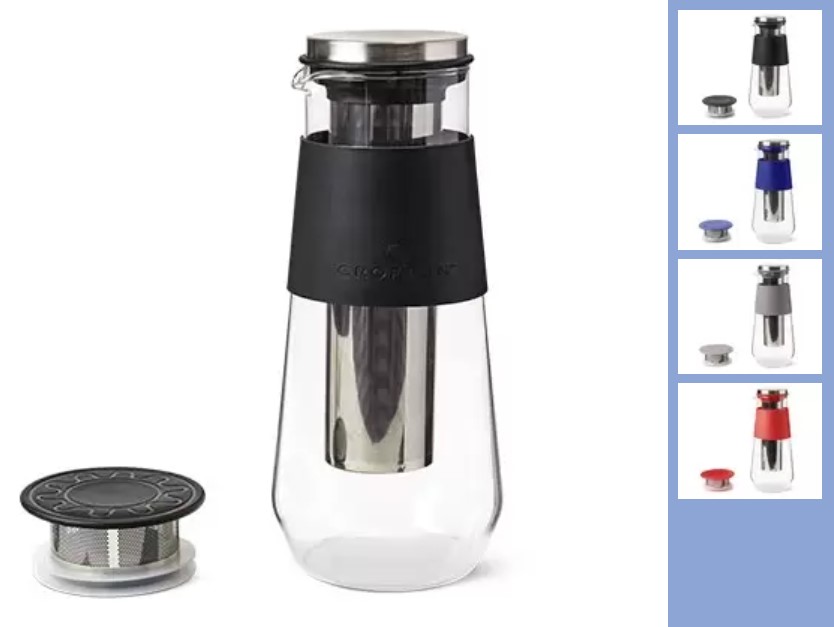 Is it a good deal?
Priced at just $9.99 Aldi's Cold Brew Pitcher is priced very competitively compared to other options online. With a glass pitcher and stainless steel filter it is made of quality materials that should last a long time. Just don't drop it!
It is hard to determine a direct comparison without knowing what the actual volume of the pitcher is. We are only told it makes 4 servings of cold brew coffee. Typically a serving of coffee is considered 6-8 ounces. If we assume they are going with 8 ounce servings that would be 32 oz or 1 quart (0.95L).
Similar cold brew pitchers are selling for about $18-$30 online. The best priced option with good reviews that I found was the Primula Burke Deluxe Cold Brew Iced Coffee Maker. It is slightly larger than the Crofton at 6 cups / 1.6 quarts and is dishwasher safe.
Another popular option is the Takeya Deluxe Cold Brew Pitcher. This option is plastic which means less likely to break it but it is more expensive. As of writing this the 1 liter option and the 2 liter option are about the same price, so the 2L is not a bad price compared to Aldi's cold brewer (assuming the Crofton is about 1L).
Bestseller No. 1
Bestseller No. 2
Sale
Bestseller No. 3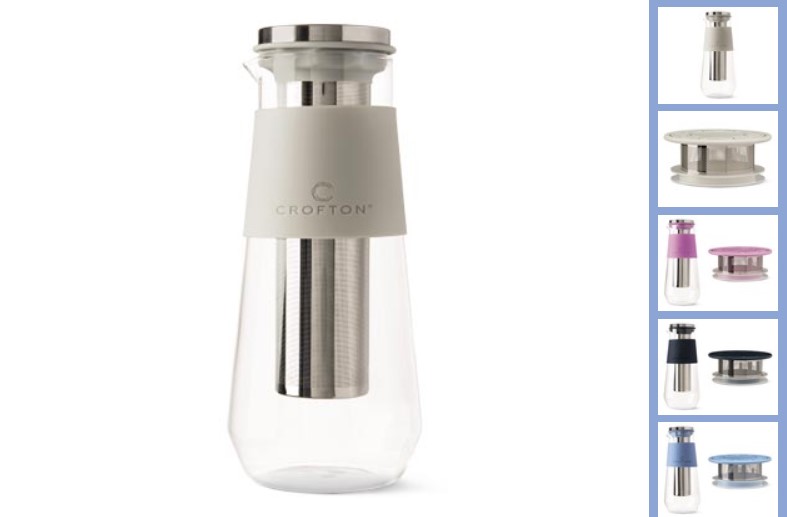 Crofton Cold Brew Coffee System Reviews
4.0 out of 5 stars (based on 2 reviews)
Works good
This works very well and it is easy to clean. Cold brew just takes a while to brew. You have to make it in advance. You can just be spontaneous about having a cup. But that's not because of a problem with the brewer.
Just be careful with the carafe, it's glass and it is very easy to break. This is my second one. I broke the first one.
You might be disappointed with your output.
I have been making cold brewed coffee in Mason jars for years. When I got this for Father's Day (from my step-mother…she does love me), I was so AMPED! When I got home, I put in the (recommended) 3/4 cup of coffee grounds, filled with cold water, stuck in the fridge, waited (almost 24) hours and pulled out the coffee tube…and, I thought "that's it? that's all I get? Other than that, and it is just visually disappointed (that's what she said), the flavour was amazing.
I would not dissuade anyone from purchasing said item, in fact if you do purchase said item, don't like it, send it, right off, to me.
Last update on 2023-11-30 / Affiliate links / Images from Amazon Product Advertising API