Aldi Portable Air Cooler
Need to cool down your space but the desktop air cooler wasn't big enough and you don't have a window to vent a portable air conditioner? This Easy Home Portable Air Cooler could be the answer.
This air cooler uses evaporative cooling and a fan to keep you nice and cool. It will be available the week of June 21, 2022 as and Aldi Find for $49.99. That is $30 less than last year's model (looks to be the same model this year but can't be certain).
Since it is an evaporative cooler you will need to add water to the 1.45-gallon tank before using. It also includes ice packs to cool it down a bit more.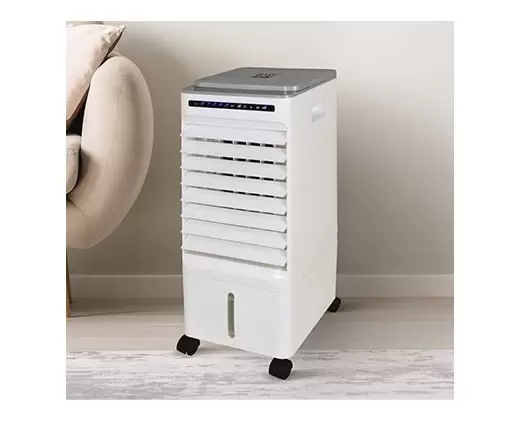 With any evaporative cooler (also called a swamp cooler) it will increase humidity in the air as it cools it down. In some areas that could be a downfall because it won't be as effective in high humidity areas. You also probably want to have some ventilation going through the area you are cooling since it will increase humidity.
If you live in a humid climate you are probably going to have better luck with a portable air conditioner or window AC unit because they will cool the air and reduce humidity.
EasyHome Portable Air Cooler
Price: $49.99 (2023, prices may vary)
Available: 6/21/2023 (previously available 7/27/2022)
Reduces air temperature through water evaporation
Three fan speeds: low, medium and high
Three fan modes: normal, natural, sleep
Timer options: 30 minutes, 1, 2, 4 hours
Includes remote control and 4 ice packs
Touch sensitive control panel
Removable Filter included
Low water alarm
Swing function
Built-in handles on the side to easily move it
Four castors/rollers for easy transportation
1.45-gallon water tank
Dimensions: 11.8 inch (W) x 29.1 inch (H) x 10.6 inch (D)
Is It A Good Deal?
If you have figured out an evaporative air cooler is what you need you will have to decide if the Easy Home Air Cooler is the right one for you. Unfortunately on the Aldi website there are not a lot of details about how much cooling this provides. Other models usually list a CFM or the square footage of the room it will cool. That makes it a little harder to make direct comparisons but there are a few options that look like they could be similar.
If you want to stay with a name brand option you can take a look at the Frigidaire Evaporative Cooler. You should also check out their map if you need to figure out if an evaporative cooler would work in your area. Another popular option is the hOmelabs Evaporative Cooler which claims to cool up to a 200 square foot room. They also show a map that is a bit different than Frigidaire's so you may want to cross reference them if you aren't sure if it would be good for your location.
Bestseller No. 1
Bestseller No. 2
BLACK+DECKER Desktop Air Cooler and Portable Fan, 3-Speed Evaporative Air Cooler with 450ml Water…
Portable Cooling: Enjoy free-flowing cooling air with a cooling area up to 7 ft. with this BLACK+DECKER portable desk fan cooler. Perfect for your desktop, home office, bedroom, kitchen, & anywhere…
Three Speeds + Turbo: Enjoy three speeds on our desktop fan small cooler: Low, Medium, & High. Enhance your cooling with the "turbo" function. Choose how you like your air with your new desktop small…
Water Tank & Run Time: This outstanding personal cooler (7.08" x 5.9" x 6.3″) has a 450mL water tank that runs up to 10 hours per refill. You decide the direction of your adjustable air vents.
Bestseller No. 3
AIRHALF Personal Air Conditioner, 3-IN-1 Portable AC with Remote Control, 3 Speeds, USB Powered…
【Remote Control】With an impressive range of 9.8ft, this remote allows you to command your personal air conditioner from anywhere in the room. Say goodbye to the hassle of getting up or reaching…
【Adjustable 3-Speed Fan】With three distinct wind speeds (low, medium, and high), you hold the power to choose the ideal airflow that suits your mood and keeps you comfortably cool. From a gentle…
【Rapid Cooling】Our mini air conditioner, featuring a high-performance motor and innovative air duct design, swiftly lowers the surrounding temperature by 41-45°F, delivering a robust and cool…
Easy Home Evaporative Cooler Reviews
3.0 out of 5 stars (based on 6 reviews)
Last update on 2023-11-30 / Affiliate links / Images from Amazon Product Advertising API