Aldi Portable Air Cooler with LED lights
This Aldi Find will help keep your desk or other small space a little cooler this summer. Whether you work in a hot office or just don't want to run the AC the Easy Home Portable Air Cooler could help keep you cool. This Air Cooler is going to be selling for $19.99 starting on June 14th, 2023. That is a couple bucks cheaper than last year's model!
It can be powered from a USB port or plugged into the wall and runs for 7-8 hours on a full tank. This little cube has three temperature and speed settings with whisper quiet operation. It can also add a little mood lighting with the built-in color changing LED lights.
If you are looking for a full AC unit to provide significant cooling be sure to check out the Easy Home Portable Air Conditioner or Easy Home Window Air Conditioner.
Easy Home Portable Air Cooler Details
Price: $19.99 (2023, prices may vary)
Available starting 6/14/2023 (limited time Aldi Find)
Experience the ultimate cooling and humidifying effect with this versatile device.
Customize your comfort with 3 temperature and speed settings to suit your preferences.
Stay cool anywhere! It conveniently plugs into wall outlets or USB ports.
Enjoy uninterrupted cooling for 7–8 hours with a full tank.
Relax in peace with its whisper quiet operation, ensuring a peaceful environment.
Create a soothing ambiance with 7 LED color changing lights to set the mood.
Keep it clean and fresh with the washable and replaceable filter.
No more spills! The sealed tank design reduces the risk of accidents.
Take it with you wherever you go! It's portable and lightweight.
Say goodbye to frequent refills with its large capacity, easy-fill tank (approximately 21.98 oz.).
The package includes a USB cable and adapter for added convenience.
Compact and stylish, it measures approximately 6.8″ H x 6.49″ W x 6.96″ D.
Choose between a sleek White or White and Gray color option to match your personal style.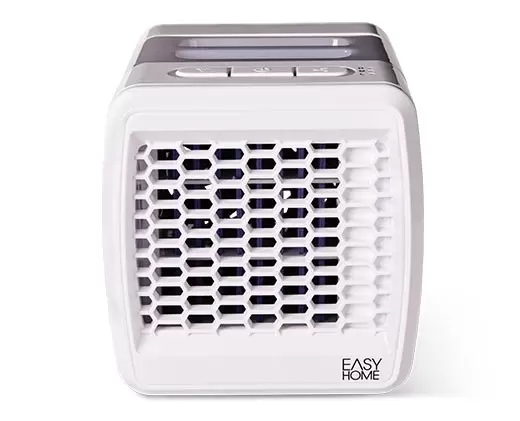 2022 Model Details
Price: $22.99 (2022, prices may vary)
Available: 7/6/2022
One device both cools and humidifies
Three temperature and speed settings
Can be plugged into a wall outlet or USB port
Runs for 7–8 hour on a full tank
Whisper quiet operation
Seven color changing LED lights
Washable and replaceable filter
Sealed tank to reduce spills
Portable and lightweight design
Large capacity (approximately 21.98 oz.), easy-fill tank
Includes USB cable and adapter
Approximate size: 6.29 in H x 6.29 in W x 6.29 in D
Available Colors: White or White with Gray
Aldi Product Code: 816419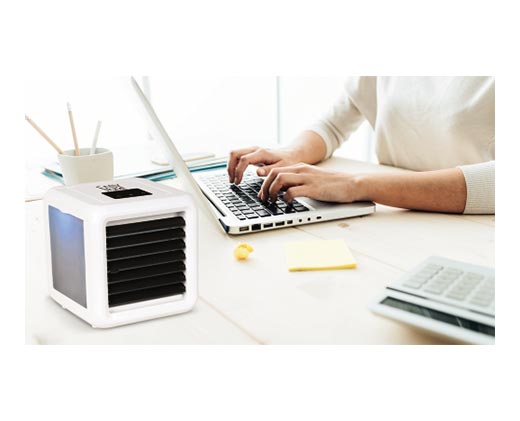 Is it a good deal?
This little gadget may be an impulse purchase in the Aldi Finds Aisle at $20 but is it a good price? This type of product is a bit more of a specialty item but you can find a few different options online. The price for a personal air cooler/air conditioner look like they range from about $30-$100 online.
Sale
Bestseller No. 1
Arctic Air Pure Chill 2.0 Evaporative Air Cooler by Ontel – Powerful, Quiet, Lightweight and…
Personal Air Cooler for Indoor & Outdoor Spaces: Switch to an eco-friendly solution with Ontel Arctic Air Pure Chill 2.0. Featuring Hydro-Chill Technology and cooling control with dual cooling jets,…
Space-Saving Portable Design: The compact, sleek design allows you to place the box cooler on your office desk, nightstand, coffee table, or kitchen counter. It is lightweight, so you can easily carry…
Energy Efficient Cooling Device: The Arctic Air Pure Chill cooler operates on 8-10 watts of power to minimize energy consumption. The multi-directional air vents allow you to adjust the direction of…
Sale
Bestseller No. 2
Arctic Air Freedom Personal Air Cooler – Portable 3-Speed Neck Fan, Hands-Free Wearable Design,…
Portable Air Cooler & Neck Fan – Arctic Air Freedom is a Cordless, Personal Cooler That Delivers Cool, Crisp & Refreshing Air Instantly. Better Than a hand-held fan, just slip it around your neck,…
Compact and Lightweight – With Comfort-Chill Technology, this compact, travel-friendly, and comfortable cooling device pulls in hot air and instantly transforms it into a cool refreshing breeze. It's…
Convenient Hands-Free Operation – This air cooler's wireless and wearable design keeps your hands free, making it ideal to be worn on hot sunny days and is suited for indoor and outdoor use. It's like…
Bestseller No. 3
KIDEE Neck Fan, Portable Bladeless Neck Fans, Upgrade 360° Airflow, Super Quiet, 3 Speeds, 4000mAh…
❥【UPGRADE AIR VOLUME – INCREASE 70%】 Upgrade neck fan use innovative turbo fan blades and wind hole design, increase 70% air volume, make you cool down quickly in 3 seconds.
❥【4000mAh HIGH CAPACITY BATTERY & 4-16 RUNNING HRS】 Built-in 4000mAh battery provides UP to16 hours of operating time. The portable fan need only 4 hours to be fully charged.
❥【ULTRA QUIET & BLADELESS SAFE】 The USB fan for neck adopts latest noise reduction technology, utral quiet. Bladeless neck fan can be used safely by children & the elderly. Do not worry about…
The cheapest one I found online is the Sinbee Portable Air Conditioner at the time of this writing. An option that looks a bit more like the Easy Home is the Konpe Portable Air Conditioner.
Easy Home Personal LED Air Cooler
Let us know which year you purchased! The models can change year to year.
2.8 out of 5 stars (based on 9 reviews)
Last update on 2023-12-01 / Affiliate links / Images from Amazon Product Advertising API