Aldi Portable Air Cooler with LED lights
This Aldi Find will help keep your desk or other small space a little cooler this summer. Whether you work in a hot office or just don't want to run the AC the Easy Home Portable Air Cooler could help keep you cool. This Air Cooler is going to be selling for $22.99 starting on July 6th, 2022. It can be powered from a USB port or plugged into the wall and runs for 7-8 hours on a full tank. This little cube has three temperature and speed settings with whisper quiet operation. It can also add a little mood lighting with the built-in color changing LED lights. If you are looking for a full AC unit to provide significant cooling be sure to check out the Easy Home Portable Air Conditioner or Easy Home Window Air Conditioner.
Easy Home Portable Air Cooler Details
Price: $22.99 (2022, prices may vary)
Available: 7/6/2022
One device both cools and humidifies
Three temperature and speed settings
Can be plugged into a wall outlet or USB port
Runs for 7–8 hour on a full tank
Whisper quiet operation
Seven color changing LED lights
Washable and replaceable filter
Sealed tank to reduce spills
Portable and lightweight design
Large capacity (approximately 21.98 oz.), easy-fill tank
Includes USB cable and adapter
Approximate size: 6.29 in H x 6.29 in W x 6.29 in D
Available Colors: White or White with Gray
Aldi Product Code: 816419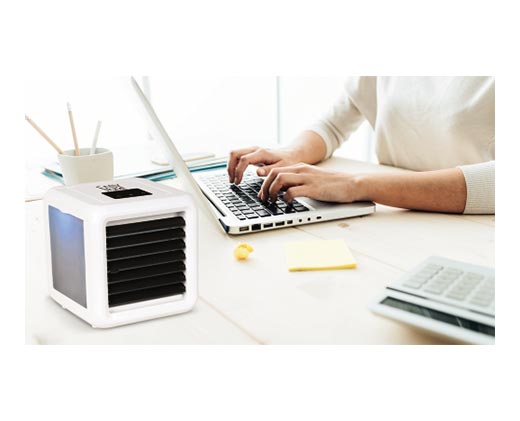 Is it a good deal?
This little gadget may be an impulse purchase in the Aldi Finds Aisle at $23 but is it a good price? This type of product is a bit more of a specialty item but you can find a few different options online. The price for a personal air cooler/air conditioner look like they range from about $30-$100 online. The cheapest one I found online is the Sinbee Portable Air Conditioner selling for about $33 at the time of this writing. An option that looks a bit more like the Easy Home is the Konpe Portable Air Conditioner that sells for $48 right now.
Easy Home Personal LED Air Cooler
3.7 out of 5 stars (based on 6 reviews)